My wife Arlene uses all of these fancy words like "motivation" and "story". Where the fuck did you learn those words? I couldn't spell "story" if you spotted me the "s" and the "t", for chrissakes. — Andy Sidaris
You have to give Andy Sidaris a lot of respect. For twenty years or so, he has been living outside the Hollywood studio system, happily putting out his own style of movies. You don't do that without tapping into something popular, and Sidaris' formula is simple: Bullets, Bombs and Babes. The DVDs even have symbols by the chapter stops to indicate content in these three areas.
The product that results usually involves a number of Playboy playmates in a variety of exotic (yet not too expensive) locations e.g. Las Vegas, chasing the bad guys with a selection of weaponry and gadgets. Throw in some gratuitous but inoffensive nudity, a little action (not overly bloody!) and a curious, almost total, lack of profanity. Wrap in a suitably enticing sleeve, release to video, and wait for the profits to arrive. So obvious, you wonder why no-one else thought of it first.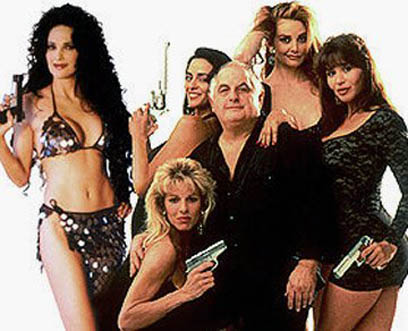 It's perhaps no surprise that Sidaris gravitated towards the action genre, having for many years been a TV sports producer, winning seven Emmys in the process. He also was responsible for the football scenes in M.A.S.H., though director Robertn Altman stiffed him out of credit for that, to Sidaris's lasting disdain; more than 30 years later, he said of Altman, "If you call up central casting and say "send me a prick over," he shows up."
Yet his career got off to a slow start, more than a decade passing between his directorial debut and his third feature, Malibu Express, which is probably the first "true" Sidaris movie in terms of style and content. This was a happy time for the low-budget film-maker, as the growth of video meant an enormous demand for product. And Andy, along with his wife Arlene, and occasionally son Christian too, was in a great position to supply that need. Their small but well-crafted action adventure pics might not out-rent the latest Hollywood blockbuster, but they'd likely outlast it on the shelves.
In the third millennium, financing new movies has become a little harder, but the Sidaris catalog has found a new lease of life on DVD. They put a lot of major studios to shame in terms of extras, especially given the low retail price – commentaries (albeit with Sidaris occasionally drooling over his actresses a bit too much), featurettes, trailers and the "Andy Sidaris Film School" where you learn how to stage car-chases, etc. How he gets all those Playmates to star in his movies remains a trade secret. :-)
Since I started writing this, Andy Sidaris passed away from throat cancer in March 2007, without getting to make Battlezone Hawaii – the script was written, centred on the theft of a Faberge egg, but it never went into production. Having now seen all his "bullets, bombs and babes" flicks, there are none which merit a seal of approval. A few are good; others are actually pretty bad. But they have a consistency of tone and content which is somehow re-assuring. You know, more or less, exactly what you're going to get, and they always deliver.
To quote Arlene, "The Sidaris dynasty is built on the theory that every four years there's a college freshman in a frat house on a Friday night who wants to see a Sidaris movie." And with their rolling, but always photogenic, cast of dolls and hunks, not to mention plots that never tax the brain, Andy Sidaris makes near-perfect movies for that situation. Crack open the beer, order the pizza, switch off all conscious thought and be entertained..
I feel like when there's nudity required, it's there. Certainly some of it is gratuitous, I'm not going to lie to you, but hey, that's what we're here for. In the play '42nd Street', where he says "You go on that stage an unknown, you come off that stage a star," I say "You step into that hot tub an unknown, you step out that hot tub a star." — Andy Sidaris