"Zero as a limit"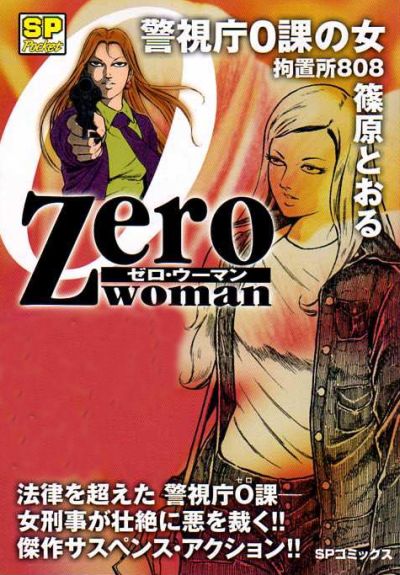 We've covered a couple of entries in the series previously, but I've decided to start work a rather more comprehensive set of reviews, systematically watching them in order, rather than the sporadic pieces previously published, as they fell across my retinas. Some of those pieces were also reprints from a previous publication, and were also shorter than the ones I've grown accustomed to writing. This was largely inspired by stumbling across the first movie, dating from the seventies, and realizing that I could now cover the entire set. I hate incompleteness. :) This will be an ongoing project, likely taking me through the winter and into next spring, so check back often (okay: fairly often!) for updates.
Like the Sasori: Female Prisoner Scorpion movies, its inspiration was a series of manga (left) by Toru Fujiwara, who seems to have a certain interest in the genre, to put it mildly. This generated one film in the seventies, but it doesn't appear to have been much of a hit: unlike Scorpion, the series then went into hibernation. However, it has been suggested in more than one place that the film was an inspiration for, or at least an influence on, Luc Besson's Nikita, which tells a similar story of a woman 'brought back from the dead' to serve her government, by carrying out missions that can't be officially sanctioned. This, of course, then spawned its own (more or less) successful spin-offs, many of which we've already documented. But in a nice display of circularity, this likely fed into the revival of the series in the new millennium.
The new version, though straight-to-video rather than theatrical, and clearly made on smaller budgets, proved rather more successful, spawning a total of nine movies between the first, in 1995 and Zero Woman R in 2007. What's kinda interesting is that, rather than having any degree of continuity, these films each starred different actresses as the titular operative. This may simply have been a budgetary concern rather than any conscious artistic decision, but certainly gives a nice sense of Zero Woman's disposability, from the government's point of view (as well as perhaps the viewers', one AV starlet being as good as another for certain purposes, if you know what I mean, and I think you do).
So, what follows are all nine entries, in chronological order of Japanese release. This may cause some confusion, since the order of release in the West was not necessarily the same as in their home territory. For instance, the entry sub-titled Final Mission here, appears to have been the first "new" release, dating from January 1995. It's not clear if the next film, released later that year and titled Zero Woman 2, is referring by that number to Final Mission or the original seventies incarnation, Red Handcuffs. tl;dr? Don't worry your pretty little head about it. They're pretty much interchangeable. And with that, on with the show!
Zero Woman: Red Handcuffs

When the series started in 1974, it originally appeared to be trying to take on the Female Convict Scorpion series at its own game – both were inspired by Toru Shinohara manga series. However, going by the fact it took more than two decades for a second entry in the series, I can only presume the commercial returns weren't anywhere near as strong. This starts off well, with policewoman Rei (Sugimoto) luring in, and then blowing away, the man responsible for torturing and killing another woman. Turns out the perpetrator was a diplomat and in the resulting scandal, Rie is sent to jail. Her chance at redemption comes when a gang of thugs stumble into the kidnapping of the daughter of a politician (Tamba): to avoid a scandal, Rie is offered a pardon if she infiltrates the kidnappers and kills them all. Initially, all goes to plan, with the first member taken out quickly, but it soon becomes clear the other members are rampaging psychos, and the situation rapidly spirals out of control, to the point where the politician yanks his support and orders the deaths of everyone, in the name of damage limitation – including both his daughter and Rie.

The promising beginning is a bit of a con, as the majority of the film has Rei not doing much more than sitting around, waiting for the gang to destroy itself. Occasionally, she will prod them in a certain direction, but generally, they don't exactly need much encouragement and she's mostly passive rather than the vengeful fury for which I hoped. Now, there's certainly plenty of tbe "fury" bit, with some of the most enthusiastic arterial spray I've seen for its time, and some of the torture scenes are close to unwatchably brutal (the cops are every bit as bad as, and perhaps worse than, the criminals in this area). However, Rei just isn't as interesting a character as Sasori, despite sharing the same terse approach; she does fit in pretty well, to a cast of characters who all seem to possess few human or sympathetic qualities.

Things escalate particularly nicely at the end, when the police discard the "softly, softly" approach [which in seventies Japan, appears to mean "not actually killing people yourself"] and go after the gang, who have moved on to take a bunch of other hostages. This leads to a chase and shootout at an abandoned US military base, which probably also meant something significant in 70's Japan, going by the occasional hints of anti-American sentiment. Noda has a broad stylistic palette, throwing montages, hand-held camera and freeze-frames into the mix, the last-named perhaps trying to evoke the manga spirit. It doesn't come off as particularly memorable however, and if the lack of its own artistic style is more than made up for in copious sleaze, you can certainly see why no-one dared (or bothered?) to follow in its footsteps for more than 20 years.

Dir: Yukio Noda
Star: Miki Sugimoto, Eiji Go, Tetsuro Tamba, Hideo Murota

Zero Woman: Final Mission

Probably the least accurate title of any film ever – at least Friday the 13th put out a few movies before using "final" – you definitely should begin here if you're looking for much coherence. Rei (Iijima) is now partly employed as secretary to the head of Section Zero, but also takes out criminals for whom traditional channels of law enforcement aren't enough, for one reason or another. She also pals around with Takako (Fukuoka), a detective from another section and a girl he helped bring out of delinquency, in what's vaguely intimated as a love triangle. One night, they witness a hit and run, and discover the perpetrator (Suzuki) is the daughter of a powerful economic figure. Despite encountering official resistance, Rei and Takako persist with their investigation and, inevitably, this brings out more robust sanctions.

This does take some time to get going: it's probably about 25 minutes before the car-micide in question, really kicks things off, and the film is more or less in a holding pattern until then. Still, Iijima certainly looks the part, and unlike some of the other occupants of the position, you don't get the sense she got the role purely for her willingness to disrobe. Indeed, she manages even to take a shower and gun down an intruder without straying much beyond the boundaries of PG-13. Not that there's exactly a shortage of nudity in this production, most of it coming from Suzuki, who is portrayed as being kinda depraved and heavily into S/M. Indeed, this seems the case for the director, as Rei spends a far too large chunk of the second half, tied up and being tormented by what can only be described as a cackling sex dwarf [literally half his lines must have been, "Bwahahahaha!"]. Quite what this says about Enokido's predilections, is probably best glossed-over.

There's a cool colour palette used here, mostly blues and grays, and a couple of scenes which will certainly stick in the mind. One is the previously mentioned shower-ambush, and the other is one where Rei is on the phone to Takako, when their conversation is rudely interrupted on his end: gradually, she realizes that something is very, very wrong. It's expertly crafted, with good performances from both ends of the telephone line, and you can't help wondering that more of this, rather than so much of the Laughing Gnome, would have elevated this to a classic. Instead, it's merely hints at greatness, and settles for being solid and effective, starting the franchise in a way of which the original movie could only have dreamed.

Dir: Koji Enokido
Star: Naoko Iijima, Takako Fukuoka, Misayo Haruki, Miho Suzuki

Zero Woman 2

Confusingly titled in the West, without any indication it wasn't the first of the rebooted franchise, this perhaps explains why there's little or no explanation of… Well, anything, really. What is Section Zero? Who is Rei? Where did she come from? "Never mind about that," seems to be the film's attitude, "Here are Natsuki Ozawa's breasts to distract you from such trifles." That's particularly the case early on, when it seems Rei is unable to go five minutes without showing them off, whether it's through being molested, becoming inescapably randy or simply taking a soapy shower (to wash off the blood after a kill, so I guess it's a shower necessary to the plot – it also replays the intruder shower scene from its predecessor, with a different ending).

Fortunately, their novelty apparently wears off for the director, and we get on with the actual plot, which involves a stolen suitcase of bearer bonds, belonging to a politician. Rei is sent to retrieve them, working her way up through the shady network of fences which handle such things. As help, she's assigned a member of the regular police (Watari? – credit information is basically non-existent here), but he turns out to have his own plan, to recover the bearer bonds himself and make a nice profit by selling them back to their owner. However, said owner is also working his own way up the chain, and kidnaps the sister of one of the thieves, as leverage for the return of his property. That brings the perp (Kosugi, the son of Sho Kosugi, iconic star of a million ninja flicks) into an alliance with Rei, and they storm the warehouse where the hostage is held, for a bloody confrontation.

It's more obvious that this is clearly shot on video – and not particularly HD video at that, though that may be a product of its era as much as anything. This generaly gets better as it goes along, unless you are interested in Ms. Ozawa's breasts, in which case your mileage may vary. The plotting contains a decent number of twists and turns, and Kosugi helps deliver a competent amount of action. However, I'd be lying if I said I didn't struggle through the earlier sections. In particular a scene where she is forced by a fence whose day job is a butcher, to sniff coke and then raped by him. While at least he gets his just deserts (let's just say, there's a meat-hook involved), it's both entirely unnecessary and clearly intended to titillate the audience. Not cool, and it left a bad taste in my mouth, which even an impressively nihilistic conclusion was unable to remove entirely.

Dir: Daisuke Gotoh
Star: Natsuki Ozawa, Saori Iwama, Kane Kosugi, Hiroyuki Watari
a.k.a. Zero Woman

Zero Woman: Assassin Lovers

"Grimly fiendish yet effective killers' romance."

Mob boss Daidohji (Yutani) has the city almost within his grasp, thanks to a minion promising him material he can use to blackmail the mayor. But his success is short-lived, as the minion is taken our by Rei (Takeda), who is then ordered by her boss Takefuji (Nishioka) to finish the job, taking out Diadohji and the rest of his gang. Not that the mobster is sitting back and waiting: he hires his own assassin, Katsumura (Matsusa), to get to Rei before she can get to him. However, neither killer is exactly happy with their role as pawns in the bigger scheme of things, and when they meet, it's time for a little R&R. As in "romance and rebellion."

This is the best of the saga which I've seen to date, mainly because it does a better job of striking a balance among the various elements. The storyline and characterization are not lazily ignored in preference for more easily exploitable elements; not that there's any shortage of either sex or violence, but they seem to flow naturally from the plot, rather than appearing to drive it. The relationship between Katsumura and Rei has some credibility to it, with each seeing a reflection of themselves in the other. But will that be able to over-ride Rei's strong loyalties to Section Zero? The film does a good job of keeping that in doubt, right up to the very end, where Rei is given the ultimate in ultimatums by Takefuji, and it's not clear what way she's going to jump.

There's also a nice, slick look to the film, which unfolds under an apparent endless array of neon lights, and on perpetually-moist streets, a visual style that helps conceal the low-budget nature of proceedings. While the story may rely to heavily on the clichés of the genre, those involved, on both sides of the camera, execute – pun not intended – their responsibilities with enough flair and energy to counter-balance its shortcomings, and the end result is certainly a significant improvement on the first two films in the revived series.

Dir: Masahide Kuwabara
Star: Kumiko Takeda, Keiji Matsuda, Charlie Yutani, Tokuma Nishioka

Zero Woman: The Accused

"Putting the zero in Zero Woman"

After the genuinely impressive bleakness of Assassin Lovers, the series comes crashing back to earth with a splat like a rotten tomato for this entry, which fizzles out early on, and then manages to lumber on for another 45 minutes. Rei (Tachihara) spends her time between missions hanging out at a gay bar, and rescues one of the rent boys, Mitsusu (Kitagawa), who ply their trade there after a vicious assault – accompanied, it has to be said, by the least appropriate music in the history of cinematic homosexual rape. He ends up moving in with her, to the latest in a series of unfurnished apartments provided by Section Zero, and the two damaged individuals start creating a life, of sorts, for themselves. However, there's a serial killer, apparently with a deep hatred of men, operating in the area, and Rei is given the mission of tracking down and eliminating the psycho.

It's hardly less than obvious who it's going to be, but almost everything here is played at such a low-key, with no measurable intensity, so it's even hard to be annoyed by this lack of subtlety. About the only moment with any energy is when Rei's boss Mutoh (Yamashita) smacks her across the face for a bit of backtalk. However, my ennui was overcome by the scene where Mitsusu gives Rei a haircut. Considering this film is less than 80 minutes long, I think I could have very easily done without this – and, ideally, rather more action. After an opening which might impress upon you the importance of not getting stuck in an everyday routine, Gotô seems to lose interest in staging any set pieces, and the final few minutes certainly don't make up for what has gone before.

Inexplicably described by Tom Mes as "the best" in the series, I found it severely uninteresting on just about any level, being badly hampered by poor performances, direction which struggled to reach workmanlike and, in particular, a script which is largely bereft of ideas. This and Assassin Lovers feel like the Jekyll and Hyde of the series; it's as if all the good stuff somehow ended up in its predecessor, leaving this installment with just the inept film-making.

Dir: Daisuke Gotô
Star: Mai Tachihara, Yuujin Kitagawa, Shinji Yamashita, Daisuke Yamazaki

Zero Woman: The Hunted

"You just can't get good henchmen these days."

If ever I become an evil overlord, I will ensure my minions' idea of security does not involve walking slowly in the open, towards an attacker, while firing wide of them from a range no greater than a slightly oversize dinner-table. That's the first thing we take from this, which begins with a thoroughly implausible scene where Rei (Ono, who had been a part of 90's J-pop group CoCo) manages to drown her target, a German industrialist, despite him being roughly twice her size, and without anyone in or around the swimming-pool noticing anything. She then climbs out, pulling a gun from who knows where, kills bodyguards who'd fail the Imperial Stormtrooper accuracy exam, and abseils down the side of the building to escape. That sets the tone for much of what follows, combining a reunion with someone from her past, a blossoming relationship with a chef, and her boss's traditional surly reluctance to allow anything as banal as "personal happiness" to distract his #1 killer from her work.

It's rather bitty, and there are too many scenes of Rei sitting around her apartment, staring wistfully into space or oiling her breasts. I should point out, however, this is actually oiling of the breasts that turns out to be necessary to the plot, which has to be worth an extra half-star in anyone's book. As usual, it's a different actress in the role, but Ono is a significant part of the problem here, as she just isn't convincing as a hard-assed hitwoman, lacking the presence or even, apparently, the basic competence for the role. Fortunately for the film lasting more than five minutes, those she's going up against are even worse, being unable to hit a barn if they were inside it. The film does redeem itself in the final 20 minutes or so, when all the threads tie together, and we realize that her boss was not kidding when he said, "There's no place for you, except in Zero Section." Things thereafter return to a grim and pessimistic worldview, and this shows the series at its most effective.

However, once you get past the initial mission to kill the German, there isn't enough genuine action in this for it to be memorable. Maybe it's a function of the low-budget, with your production being much cheaper, when you are filming your lead actress trying to look intense, instead of needing to expend money on blood squibs, blanks and other actors [I think it was renowned B-movie director Jim Wynorski who once described nudity as the cheapest special effect]. But it's a method that is harder to pull off successfully, and in this particular instance, I can't say the approach makes for more than marginally passing entertainment.

Dir: Norihisa Yoshimura
Star: Mikiyo Ono, Reina Tanaka, Kou Watanabe

Zero Woman: Dangerous Game

"Game for just about anything, but mostly moping."

The main mission given to Rie (Shiratori this time) is a little bit different, from her usual, straight-forward assassinations. Instead, she's given the job of protecting a witness. Nana (Matsuda), the disgruntled mistress of an organ-trafficking ring, who has had enough and agreed to co-operate with the police. Rie is part of the protection detail, but soon finds out that the gangsters, under ever-so strange boss Kaneda (Nogami) with his transvestite tendencies, are not going to sit back and wait for Nana to take the witness stand. Oddly, the cops let Nana stay in her own apartment, perhaps figuring that's the last place her former lover would look. but when that is unsurprisingly stormed, Rie takes the target back to the operative's flat, where they hang out, exchanging small talk – that's mostly Nana, of course, since Rie is about as talkative as the enormous pet fish she has in a tank, and to which she feeds goldfish.

However, there are complications, because it turns out that a senior politician has an ill daughter, who is relying on the organ trafficking ring for a black-market transplant. The word comes down to Rie's boss, Mutoh (Ryu) that the investigation has been squashed, and Nana is to be dumped out of witness protection, as no longer of interest. That would almost certainly be a death sentence, because her betrayal of the gang isn't limited to her knowledge of their actions, she also swiped a large suitcase of their cash before turning police informant. But has she done enough to endear herself to Rie, that her bodyguard might be prepared to go off-book and continue with the original mission on her own initiative? Or, better yet, entirely take out Kaneda – whose weirdness has now graduated from transvestitism to cannibalism.

This is too chatty to succeed, especially when the conversation is so one-sided, as are the ones between Nana and Rie. They do form a somewhat interesting contrast in characters, and Shiratori certainly has the physical presence to carry off the part of a cold-blooded assassin, to a much greater degree than some of the previous actresses in the series. But to reach the bloody finale, you have to sit through a solid 70 minutes of her moping around her apartment, with our without Nana, and that's more than an entire month's quota of mope for me. The L they're missing from the sleeve probably is "lugubrious". Kids, look it up…

Dir: Hidekazu Takahara
Star: Chieko Shiratori, Ichiho Matsuda, Masayoshi Nogami, Daisuke Ryu