"Game for just about anything, but mostly moping."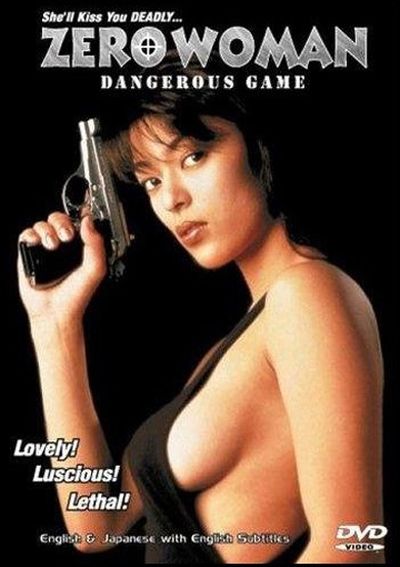 The main mission given to Rie (Shiratori this time) is a little bit different, from her usual, straight-forward assassinations. Instead, she's given the job of protecting a witness. Nana (Matsuda), the disgruntled mistress of an organ-trafficking ring, who has had enough and agreed to co-operate with the police. Rie is part of the protection detail, but soon finds out that the gangsters, under ever-so strange boss Kaneda (Nogami) with his transvestite tendencies, are not going to sit back and wait for Nana to take the witness stand. Oddly, the cops let Nana stay in her own apartment, perhaps figuring that's the last place her former lover would look. but when that is unsurprisingly stormed, Rie takes the target back to the operative's flat, where they hang out, exchanging small talk – that's mostly Nana, of course, since Rie is about as talkative as the enormous pet fish she has in a tank, and to which she feeds goldfish.
However, there are complications, because it turns out that a senior politician has an ill daughter, who is relying on the organ trafficking ring for a black-market transplant. The word comes down to Rie's boss, Mutoh (Ryu) that the investigation has been squashed, and Nana is to be dumped out of witness protection, as no longer of interest. That would almost certainly be a death sentence, because her betrayal of the gang isn't limited to her knowledge of their actions, she also swiped a large suitcase of their cash before turning police informant. But has she done enough to endear herself to Rie, that her bodyguard might be prepared to go off-book and continue with the original mission on her own initiative? Or, better yet, entirely take out Kaneda – whose weirdness has now graduated from transvestitism to cannibalism.
This is too chatty to succeed, especially when the conversation is so one-sided, as are the ones between Nana and Rie. They do form a somewhat interesting contrast in characters, and Shiratori certainly has the physical presence to carry off the part of a cold-blooded assassin, to a much greater degree than some of the previous actresses in the series. But to reach the bloody finale, you have to sit through a solid 70 minutes of her moping around her apartment, with our without Nana, and that's more than an entire month's quota of mope for me. The L they're missing from the sleeve probably is "lugubrious". Kids, look it up…
Dir: Hidekazu Takahara
Star: Chieko Shiratori, Ichiho Matsuda, Masayoshi Nogami, Daisuke Ryu