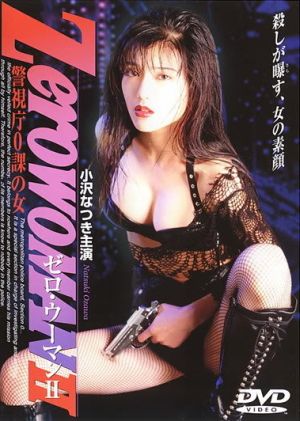 Confusingly titled in the West, without any indication it wasn't the first of the rebooted franchise, this perhaps explains why there's little or no explanation of… Well, anything, really. What is Section Zero? Who is Rei? Where did she come from? "Never mind about that," seems to be the film's attitude, "Here are Natsuki Ozawa's breasts to distract you from such trifles." That's particularly the case early on, when it seems Rei is unable to go five minutes without showing them off, whether it's through being molested, becoming inescapably randy or simply taking a soapy shower (to wash off the blood after a kill, so I guess it's a shower necessary to the plot – it also replays the intruder shower scene from its predecessor, with a different ending).
Fortunately, their novelty apparently wears off for the director, and we get on with the actual plot, which involves a stolen suitcase of bearer bonds, belonging to a politician. Rei is sent to retrieve them, working her way up through the shady network of fences which handle such things. As help, she's assigned a member of the regular police (Watari? – credit information is basically non-existent here), but he turns out to have his own plan, to recover the bearer bonds himself and make a nice profit by selling them back to their owner. However, said owner is also working his own way up the chain, and kidnaps the sister of one of the thieves, as leverage for the return of his property. That brings the perp (Kosugi, the son of Sho Kosugi, iconic star of a million ninja flicks) into an alliance with Rei, and they storm the warehouse where the hostage is held, for a bloody confrontation.
It's more obvious that this is clearly shot on video – and not particularly HD video at that, though that may be a product of its era as much as anything. This generaly gets better as it goes along, unless you are interested in Ms. Ozawa's breasts, in which case your mileage may vary. The plotting contains a decent number of twists and turns, and Kosugi helps deliver a competent amount of action. However, I'd be lying if I said I didn't struggle through the earlier sections. In particular a scene where she is forced by a fence whose day job is a butcher, to sniff coke and then raped by him. While at least he gets his just deserts (let's just say, there's a meat-hook involved), it's both entirely unnecessary and clearly intended to titillate the audience. Not cool, and it left a bad taste in my mouth, which even an impressively nihilistic conclusion was unable to remove entirely.
Dir: Daisuke Gotoh
Star: Natsuki Ozawa, Saori Iwama, Kane Kosugi, Hiroyuki Watari
a.k.a. Zero Woman