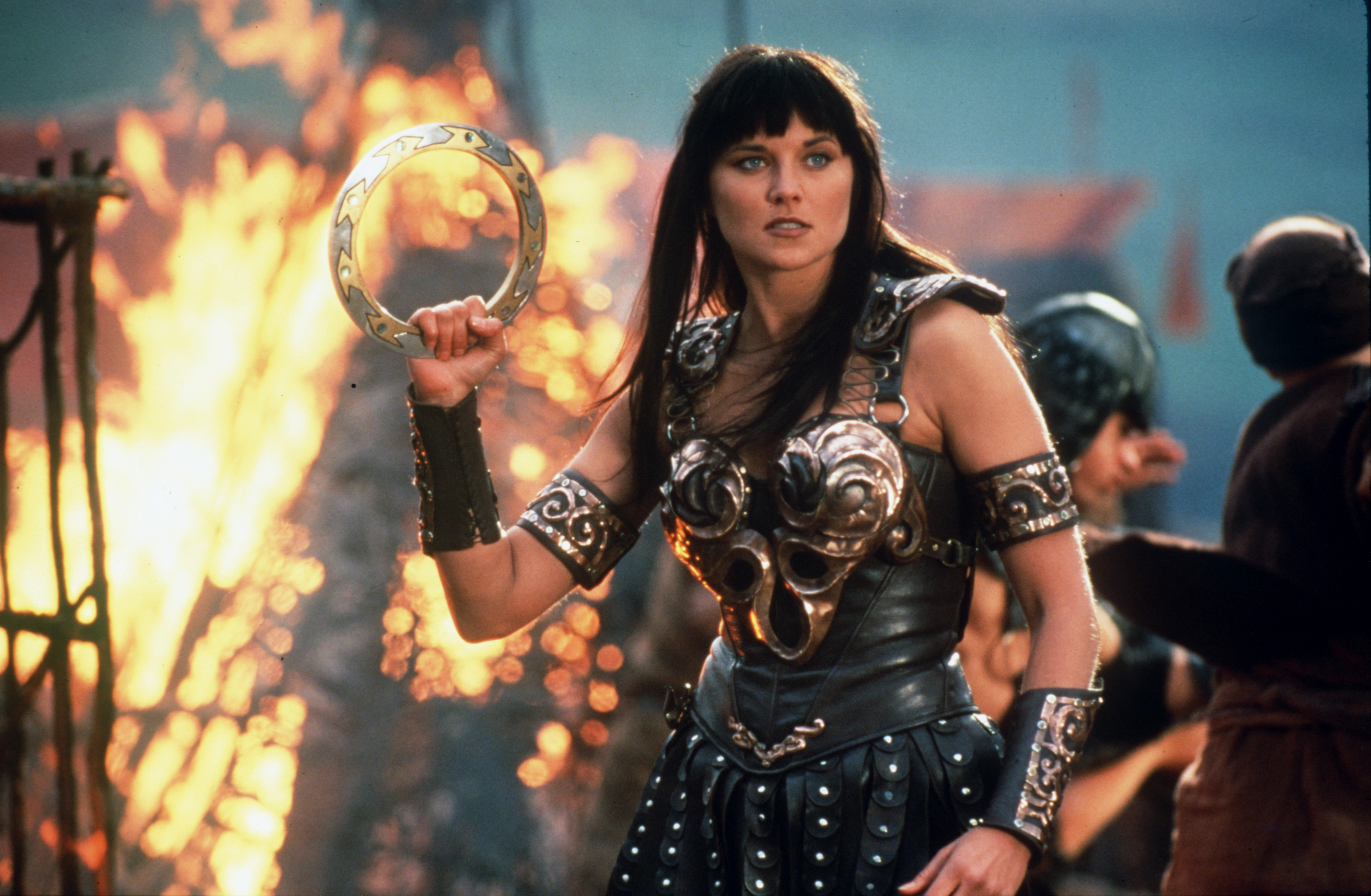 Well, it was a glorious 24 hours of hope, while it lasted. On Monday, the Hollywood Reporter wrote that NBC were "in the extremely early development stages" of preparing a reboot of the much-loved action-heroine series, which originally began in 1995. Producers of the original show, Rob Tapert and Sam Raimi, were reportedly involved, continuing a partnership which had also brought us Spartacus and the upcming Ash vs. Evil Dead – both of which included roles for Lucy Lawless, a.k.a. Mrs. Tapert. There was no firm word as to whether Lawless would have been involved in the reboot, but based on that track record, it would seem likely. Albeit not as the heroine, the piece saying "the new Xena would have to have the charisma and charm of Lawless and the smarts of The Hunger Games' Katniss as producers are said to be looking for a sophisticated and smart superhero for a new generation."
This was certainly something Lawless had been keen on for quite some time. Just earlier this month, while appearing at San Diego Comic-Con to promote Ash vs. Evil Dead, she said: " I'm pitching my ass off to make it happen, whether it's with me or not… It's about who's got the rights. But that's a piss poor excuse anymore… Freakin' pay it. It's better to have 80 percent of something than 100 percent of nothing. Don't waste this opportunity. Reinvigorate that franchise… They're fools not to bring it back." Judging by the reaction in the media, Lawless is right: the demand for a Xena revival is clearly still there, and it wouldn't be the only piece of fondly-remembered nineties television, with the Fox revival of The X-Files already being one of the most eagerly anticipated shows of 2016.
But, not so fast, those of you already strapping on the leather corset in preparation for the cosplay contest at XenaCon next year. For no sooner had the seed been planted, then the earth on which it was sown was strewn with cruel salt:
Sorry, friends! news of a #Xena reboot is just a rumor. I'd love it to happen one day but it's still in the wishful thinking stage.

— Lucy Lawless (@RealLucyLawless) July 20, 2015

Pardon me, if I sob gently into my Gabrielle-shaped pillow for a bit. :) Though it's kinda odd, because the Reporter piece definitely seemed like it was a good deal more than a "rumor", with meat on its bones, though did acknowledge the development was still in the extremely early stages. One wonders whether the story was, perhaps, a trial balloon of sorts, sent up to see whether the public were enthusiastic about the potential, or whether it was greeted with derisive rolling of the eyes. That question seems to have been answered in the positive, and it would certainly fill a niche for action-heroines on network television, which right now appears virtually to begin and end with Agent Carter and Covert Affairs. But let's not forget, NBC are also the network which got as far as the Wonder Woman pilot, with Adrienne Palicki, and that never even (officially) aired. There's many a slip 'twixt cup and lip.
If the idea does progress, the issue could then become one of casting. There is, obviously, a strong groundswell of support from the existing fanbase to have Lawless and Renee O'Connor [who has been quiet on the whole thing] reprise their roles, even though they are aged 47 and 44 respectively. While not "past it" – Vin Diesel, say, is 48, or the Rock is 43 – this is a full two decades older than they were when they started the series. Lawless has acknowledged this, saying she thinks it'd be funny for the reboot to have a "middle-aged Xena in a muumuu with a bad attitude and a smoking habit." Hmm. It might be funny as a one-0ff, but not sure there is exactly much staying power in that idea! Who I would like to see take over, and it would also provide a nice sense of continuity, is Zoe Bell, who was Lawless's stunt stand-in in the show. Performances in the like of Raze have shown her capable of holding her own on the screen; and think of the money they'd save in doubles…
We'll see what develops. I'd like to see it, but have to say, my re-viewing of the series has been a bit like binge-watching Monty Python: yes, there were some absolute classics, but your brain kinda forgets all the filler and other, lower-quality stuff in between those gems. The potential is there, sure, yet also the potential for a fond memory of my younger days to be shredded. For an example, look no further than the Charlie's Angels reboot? Enough said.