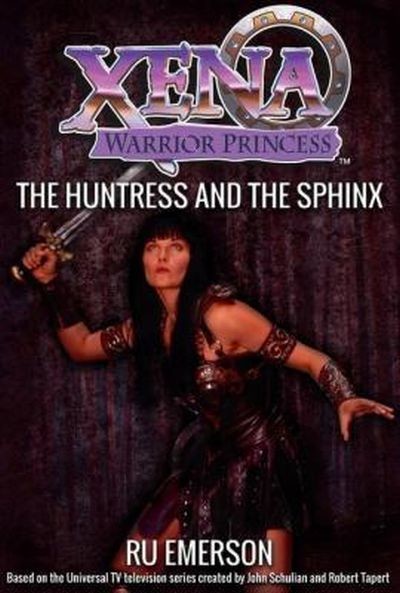 Being a fan of the old Xena, Warrior Princess TV series (1995-2001), when I stumbled on it on BookMooch, I snagged a copy of this original spin-off novel based on the series. (Published in 1997, it reflects the first couple of seasons.) Wanting a light, short book to fit in between other reads, I recently started it without ultra-high expectations; I expected it to be passable entertainment that I'd rate at three stars. I wounded up rating it a bit higher, due to some unexpected positives.
Xena and sidekick Gabrielle (who here actually comes into her own as pretty much an equal partner in the adventure) get drawn into a rescue mission for some kidnapped preteen girls, and the Sphinx from Greek mythology is involved. But Emerson has worked other strands of classical mythology into her tale as well: the titular "huntress" is the legendary Atalanta, and both Nausicaa and skilled weaver Arachne play roles in the story. The author's use of these elements is deft, staying faithful to the characterizations and back-stories of these figures, while at the same time fleshing them out and giving them believable personalities. She's also faithful to the portrayals of Xena and Gabrielle (and another series regular who makes a cameo, Mannius); their character, and the qualities of their relationship, are brought to life faultlessly. Some mention is made, here and there, of incidents that happened in series episodes; but while series fans are the primary intended audience, prior knowledge of it isn't really necessary. Readers who never watched it, or who (like me!) can't remember all of the first two season's episodes, can still enjoy the book easily.
A weakness of the series was that the writers never anchored it at any point in ancient history; persons and events from across two millennia and more were just thrown together in an anachronistic jumble. We have a bit of that here, too. In this novel, soldiers who fought in the recent Trojan War (waged a bit before 1200 B.C.) are still drifting back home –but the poet Homer, who actually lived a few centuries later, appears here as a young student bard. You can't take this as historically-grounded fiction; it's better to view the setting as a fantasy world that happens to have jumbled parallels to history.
If the reader can do that, the book has a number of pluses. Emerson approaches her tale seriously; there's a touch of dry humor in places, but not the often juvenile humor and double entendres that series fans will recall (perhaps with rolled eyes). Although the Sphinx is an obviously fabulous monster (as is a cyclops who makes a cameo appearance), magic and the doings of gods and goddesses don't play a role here otherwise; we're mostly in the realm of natural human behavior. The emotionally-evocative situation and the interactions of the characters have some genuine depth, with serious moral/psychological life lessons in view. Our characters (and the reader) will be surprised by a couple of plot twists, and the whole is woven into a fabric that would do Arachne credit. Dialog is rendered in a colloquial modern English which we can interpret as translating an equally colloquial version of ancient Greek, but obvious anachronisms are avoided.
Xena, of course, is her tough-as-nails self (with a gentler side that she likes to conceal). With Atalanta along, we have another combat-capable lady in the mix; and between them, they'll pull off some feats with a chakram and a bow that might cause some jaw dropping. But the violence here is mostly non-lethal, and the rescue of the girls will require as much brains as brawn to pull off. (CAN our heroines pull it off? …Well, you have to read the book to find out!)
One quibble I'd express is that anorexia, which in our terminology is clearly what one character has (though it's Greek, the term wasn't used in antiquity, and isn't used here), doesn't yield as readily to common-sense persuasion as Emerson imagines it would. But that wasn't a big problem for me. In the main, I thought this was a pretty well-crafted read of its type. Emerson is a professional writer who's authored or contributed to at least 30 books, mostly of the fantasy adventure sort, going back to the 80s. This is one of a number of Xena spin-offs that she wrote; and based on this one, I'd be willing to try out some of the others!
Note: There's no sex in this novel, and bad language is minor and rare (any religious profanity is confined to pagan deities).
Author: Ru Emerson
Publisher: Berkley, available through Amazon, currently only as a printed book.
A version of this review previously appeared on Goodreads.