"As far as wrestling content goes, everything but the kitchen-sink."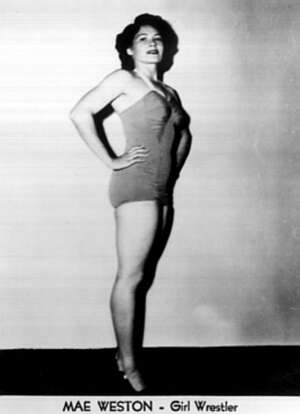 Another eclectic DVD package from the always-oddball Something Weird Video, this gathers together a whole range of stuff, from roller derby through pro wrestling to apartment catfighting, as well as the 1951 film Pin-Down Girl. It all adds up to 212 "sexy-but-savage" minutes of entertainment, by the time you've picked through a DVD menu that is about as far from intuitive as possible. So, let's get ready to rumble…
It's a shame there's no date given for the six wrestling bouts – I'd say the 50's, but that's a guess. They seem tame by today's standards, but, refreshingly, are also a million miles from the current T&A show. Indeed, given "accepted" behaviour at the time, these women are probably more transgressive. Commentary ranges from decent, albeit patronising (though the short When Girls Need a Man is worst of all), to bouts where the sound is post-dubbed and you get silly voices. Use the fast-forward button.
A pleasant surprise was the roller derby. Once I'd sussed out the scoring, I enjoyed a sport I'd heard of, but not seen, and I could appreciate why, at one time, only baseball and football had more spectators. Less amusing were Glamazon Living Room Rumble and several bouts of Amateur Outdoor Catfighting, clearly aimed at a different audience, shall we say.
From the director of Gun Girls, Pin-Down Girl has an optional commentary by cult icon Johnny Legend. It became a Mystery Science Theater 3000 victim, under its alternate title of Racket Girls, so it'd be foolish to expect Great Art. This, however, is bad in almost every conceivable way. The only decent bout is the Mortensen/Martinez one, though another scene suggests Martinez is the worst actress ever caught on celluloid (and against 'Peaches' Page, that's some claim). Otherwise, women wrestling – and training – has never been so dull, and the 'story', about a bookie in debt to "Mr. Big", is no great shakes either.
There's no denying the quantity and variety of stuff here. However, is there anything I'd want to watch again? I suspect not much. The roller derby was about the only highlight, though Legend's commentary on Pin-Down Girl is also definitely worth a listen – even if that means you have to suffer the movie once again… Definitely rent this DVD before you buy.
Dir: Various
Star: Clara Mortensen, Rita Martinez, Peaches Page, Mildred Burke, Mae Weston