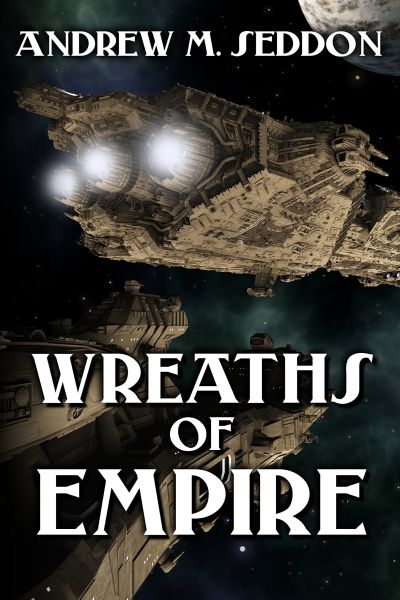 It's often frustrating to me that in today's two-tiered fiction market, in which the big-time tier is practically a closed caste and the tier that admits everybody else is so glutted that gems get easily buried beneath the mountains of slag (and nobody knows where to look for them), it's really difficult for some first-class authors to get the recognition and readership they deserve, and would have had a generation ago. Andrew M. Seddon is definitely one of these authors. He and I have been Internet friends for over ten years; I had the privilege of beta reading this excellent novel a couple of years ago (and Andrew is kind enough to mention me in the acknowledgments, though he truly didn't need much if any help from me!) and now, since he's generously given me a signed copy, I have the added privilege of being one of the first persons to review it anywhere.
Andrew writes high-quality historical and supernatural fiction, but it's probably fair to say that his literary first love is science fiction. A medical doctor, his training and experience in the life sciences gives him a predilection for the genre's "hard" tradition, in which science is handled accurately and the speculative element builds on credible extrapolation from actual knowledge. Wreaths of Empire stands in this tradition; it's also a work of "space opera," set in a far-future galaxy with far-flung human settlement, against the background of "a clash of civilizations," humans vs. aliens in a high-stakes interstellar war, with battle scenes, intrigue, and plenty of action. In its roots and for much of its history, this tradition tended to be associated with shallow characterization, a simplistic "us against them" orientation, and heavy concentration on description of hardware and display of technological and scientific speculation to the neglect of the human element. Happily, none of those features have ever characterized Andrew's work, and don't here. This is a novel where the key element is people (whether they're human or alien) and the choices they make –people and choices we come to care about greatly.
Readers of Andrew's earlier novel Iron Scepter will recall that there we find the malevolent Hegemony, which dominates human space, plotting to gin up a war against another space-faring race, the Gara'nesh, in order to use fear and hatred of an outside enemy to solidify its own control over its hapless subjects. This new novel is set in the same universe, like much of Andrew's SF. (Despite the broad chronological framework that ties them together, though, these books aren't a "series;" they can each stand alone and be read independently.) Here, though, our setting is much later; the bloody Gara'nesh war has dragged on for decades, shaping the lives and attitudes of a whole generation that's never known anything else. When we meet Jade Lafrey in the prologue, she's an ensign in the Hegemony's space fleet –an ensign who's destined to make a crucial choice that will have far-reaching consequences, for the galaxy and for two sentient species.
Eleven years later, as peace negotiations are finally opening, Jade's a (space) Naval Intelligence officer, called on to deal with a complex behind-the scenes intrigue that may threaten the diplomatic efforts, if not the survival of humanity itself; and it will be very difficult to tell friend from foe. She'll get her share of fighting action and physical jeopardies and challenge as a result. As an added bonus for action heroine fans, the author actually gives us two action-oriented ladies here; besides our protagonist, one of the secondary female characters, interstellar smuggler Trevarra, can also handle herself well in a fight. (In fact, while the one-star kick-butt quotient above rates Jade's performance, if I'd rated Trevarra's it would have been three.)
Earlier this year, I was asked if I could provide a blurb for the cover copy of this book. I can't think of a better way to finish this review than to quote it. "Top-notch SF author Seddon creates possibly his best novel yet in Wreaths of Empire, bringing a new depth and freshness to the space opera tradition. A wonderful heroine to cheer for; a well-crafted, character-driven plot; some of the genre's finest writing; excitement, suspense, and food for thought –what more could a reader ask for?"
Author: Andrew M. Seddon
Publisher: Splashdown Books, available through Amazon, both for Kindle and as a printed book.
A version of this review previously appeared on Goodreads.