"A forest frolic which is bear-ly satisfactory."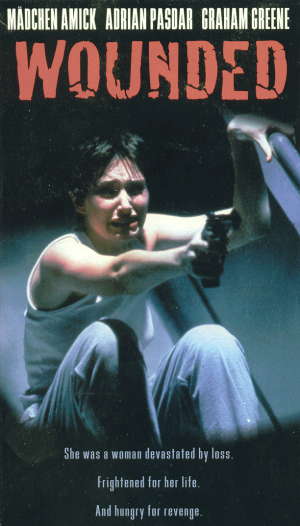 This starts off brightly, and ends not badly – if a little predictably – it's the middle where it falls apart, spending the best part of an hour fiddling around to no particular purpose. Amick plays a forest ranger whose fiance is murdered by a bear poacher (Pasdar, looking disturbingly like Al Jourgenson of Ministry) – she nearly dies too and, rather than helping the authorities, vows to take revenge herself.
The wilderness portions of the film work well, with cool ideas like the poacher finding the bears through the radio collars put on them by the rangers, and there's also a grisly grizzly graveyard scene which is quite spooky. After she's shot, however, the movie wanders back into civilization. This could still have worked, with the poacher hunting down the only witness amid an "urban jungle" theme, but he just comes to town, taunts her a bit, kills a supporting character and heads back to the wilderness for the obvious finale.
Amick isn't bad, conveying smouldering hatred effectively enough to make her unwillingness to help the police more than an obvious plot device. There's also a nice twist where the buyer of the bear parts helps out, after deciding his supplier has become a loose cannon. However, the second act is so lacking in energy, with the heroine doing little more than sitting round, gazing into space and answering the telephone, that my attention wandered severely. A good idea, doomed largely by a serious lack of development.
Dir: Richard Martin
Star: Madchen Amick, Adrian Pasdar, Graham Greene