"On Her Insurance Company's Secret Service"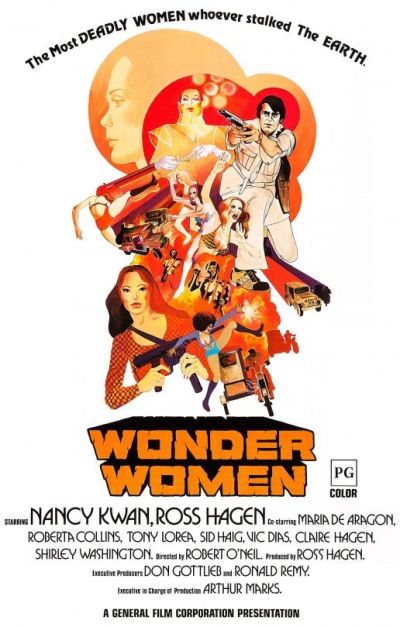 Roger Corman's New World Pictures weren't the only ones using the Philippines as a factory to churn out B-movies in the seventies, as this 1973 entry, from Arthur Marks' General Film Corproration shows. Dr. Tsu (Kwan) and her posse of henchwomen are kidnapping athletes, the not-so-good doctor having perfected the ability to do brain transplants. She's now selling this as a service to rich, old people, who can become young again. However, after kidnapping a jai-alai star, the insurance company on the hook for the half million dollar policy hires Mike Harber (Hagen) to investigate. As he starts nosing around and making waves, first the local gangster boss, then Dr. Tsu, send their minions out to stop him. Needless to say, this is of limited success, and he is soon on his way to the remote island where Tsu operates, to take down her operation.
If this feels like a low-budget Bond ripoff, you're just about right on the money, down to the "let me tell you all my plans before I kill you" scene – at one point, I expected Tsu to yell, "No, Mr. Harber – I expect you to die!" But it is highly refreshing to have a female mastermind, especially one that excels in the areas of medicine and technology, traditionally a male evil overlord preserve: I'm hard pushed to think of any equals of Dr. Tsu, particularly from the era. Maybe the closest would be Rosalba Neri, in Lady Frankenstein from two years earlier is the closest? Back that up with her multinationa, all-female associates and she's definitely decades ahead of her time, socially as well as technologically. In comparison, Harber comes over as a bit of a Neanderthal, whose solution for pretty much everything involves shooting at it, hitting it over the head – or occasionally hitting it over the head with his gun.
In the supporting cast, de Aragorn gets the best role, as lead henchperson Linda, who gets to brawl with Harber, destroying a hotel room, before leading him in a car chase through the streets of Manilla – again, something you didn't see women doing very often at all in the 1970's. And it's a heck of a chase, with any number of moments that suggest the makers pretty much blew off niceties like closing streets or obtaining official sanction for the sequence, and just shot around whatever happened to be going on. Mention also due to cult veteran Sid Haig, who shows up as what appears to be Dr. Tsu's accountant, and decides at the end to get out while the going is good, after another quirky character performance. Accompanied by Carson Whitsett's funky score, the net result is something that's not actually much, if at all, less fun than the same year's Live and Let Die, and treads a nice line between self-parody and self-aware.
Dir: Robert O'Neill
Star: Ross Hagen, Nancy Kwan, Maria de Aragorn, Roberta Collins
a.k.a. The Deadly and the Beautiful