"Horrible. Makes you yearn for the subtlety and wit of GLOOW."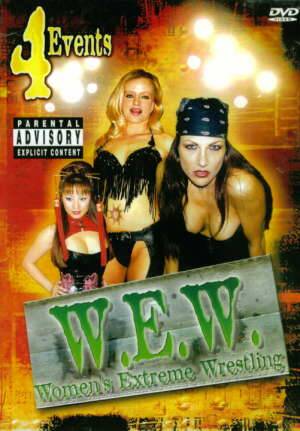 In my collection, I have DVDs from six different American wrestling federations, plus others from Japan. This is, by far, the most tedious and badly-put together. There isn't an aspect here that even reaches bearable: the wrestlers are almost without exception incompetent, the announcers are juvenile jerks, and the presentation is truly dreadful. Shot at WEW's first two pay-per-views at Viking Hall, Philadelphia on February 22nd and April 6th, 2002, it is frankly a mystery how the company didn't immediately fold. But rising from the remnants of GLOOW, it uses some of the same "talent" plus porn stars, and still seems to be offering its X-rated mix of sex and violence – though this DVD entirely lacks the nudity promised by the commentators, which has presumably been edited out. Really, all the naked female flesh in North America wouldn't have helped this – the only thing that's "extreme" is some bad language, and while I could be wrong, personally, there's more to being extreme than a potty-mouth.
The number of blown spots and flubbed moves here is almost uncountable, and the live audience seemed severely unimpressed: applause was sporadic and outnumbered by chants of "You Fucked Up!", a nostalgic throwback to ECW days that brought a smile to my face. But I digress. GI Ho, Laree and Weed have some skills. As for the rest, I think every single woman at our local federation, IZW, could use them to mop the floor. Time is short, so let us gloss rapidly over the two commentators, who have the combined mentality of a single 13-year old, and finish on the incoherent presentation. For example, a tables match manages to edit out the actual breaking of the tables entirely; disc four contains repeats of half the disc one matches; and you don't even get to see who won the final bout, since the DVD ends in the middle of it! The 4-disc set may run 210 minutes, and seem good value for money, but don't be fooled. Setting ten bucks on fire and ramming it down your own throat would be more entertaining.
Star: Alexis Laree, Amanda Storm, Tai 'Killer Weed', Psycho Bitch