"No rabbits were har… Er, never mind."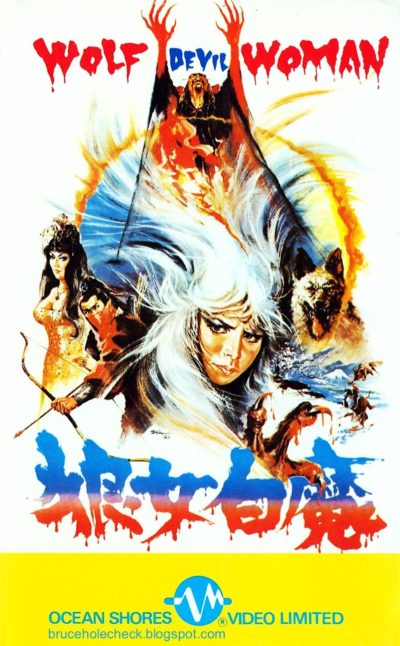 This 1982 Taiwanese flick proves that, if you can't afford to go big, you might as well go… Actually, you might as well go on regardless, because with enough enthusiasm, the surreal results can sometimes be thoroughly entertaining, albeit certainly not in a way any normal viewer would call "good". I was still thoroughly amused, albeit more often at the film than with it, for this is sheer lunacy – yet lunacy of a fascinatingly off the wall kind. It begins with a couple suddenly deciding that they don't want anything to do with their erstwhile master, the Blue Devil. Maybe the human sacrifice was the giveaway. They head off, with their newborn baby, only to be caught by his minions. Everyone gets buried in an avalanche and killed, except the baby, who is brought up by wolves (!) in an ice-cave, and fed a magical ginseng root by them (!!) that gives her amazing superpowers (!!!).
20 years later, the Blue Devil has become a bigger problem, so Lee (Fung) and his comic-relief sidekick Wong (Pa Gwoh) have headed up the mountain in search of the only thing capable of defeating the Blue Devil. Which just happens to be the magical ginseng root eaten by our heroine. She is now bouncing round the mountain in her fur costumes, rending innocent bunny rabbits and chickens limb from limb. And, as the tagline above makes clear, I'm pretty sure those weren't stunt bunnies. Lee fixes her busted spine with a bit of impromptu chiropractic care, befriends her and teaches her to speak. They then go their separate ways. Lee turning to the dark side and becoming a minion of the Red Devil, while Snowflower (as she has been named) swings around from trees for a bit – as wolves apparently do in Taiwan – then gets drunk in a village tavern and is thrown into a well by irate locals.
This is part of her heroic journey, with the eventual goal of taking revenge on the man who killed her parents. To get there, she'll also have to go through a number of battles, get some semi-useful information from a white-haired guy with really long eyebrows, and there will be a not-very stunning revelation about who the Blue Devil actually is. Let's just say, I think Ling might have been a fan of the original Star Wars movies. One of her preferred tactics for dealing with opponents is to grab them firmly, then yank off their heads or tear them in half, so it appears those animals did not die in vain, and were simply practice. But perhaps the maddest moment is when one of her allies is set on fire: Snowflower tears into her own arm and uses the arterial spray to put the flames out. That's hardcore.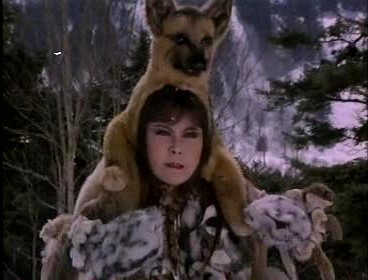 Dull, it ain't, and was clearly a work of love for Ling, who wrote, directed and starred in the movie, playing the heroine as well as her mother. Which is quite surprisingly, since women are generally more… sensible than this. It's quite possibly one of the most insane films ever created by a female director. The luridly cheap execution, for example on the visual effects, only enhances the feeling you've wandered into someone else's drug-propelled nightmare. This, mind you, was all based on a viewing of the subtitled version. There's a dubbed one which adds an extra level of surrealness, if Wikipedia is to be believed, calling it "notable for its bizarre vocal performances," and saying the Blue Devil "speaks like American cartoon character Yosemite Sam." It's almost enough to make me wish I'd seen that version.
Even without it, this remains jaw-droppingly bizarre, and there's almost no written description that can possibly hope to do it justice. Fortunately, YouTube exists, and you can now appreciate this cinematic treat directly – complete with the dubbing! – rather than through the poor approximation of my second-hand words. I'd suggest having a few alcoholic beverages to hand, because you're going to need them. For you will not have seen anything quite like this before…
Dir: Ling Chang
Star: Ling Chang, Sek Fung, Pa Gwoh