"Tackily entertaining entry in sorcery saga. Mine's a pint…"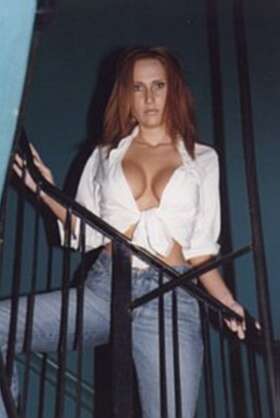 This comes from Vista Street Entertainment, whom you might remember produced some of the worst entries in the Women Who Kick Butt box-set; they're kinda like a poor man's Troma. The series mostly feature attorney Will Spanner, but he took a break for this entry, being temporarily dead: it's that kind of world. While I've not seen 1-9, I found this entertaining – trash rather than garbage – though Chris kept making sarcastic comments about Stephanie Beaton's nipples (or lack thereof).
She plays an LAPD detective sent to England to extradite a Satanic serial-killer (Knowlton). Before she can, he's freed from custody by vampire queen Raven (Daly) to assist in a dark ritual. Luckily, there's white witch Celeste (Cooper), who runs round London at night, fighting evil in a fetching, powder-blue PVC costume, complete with cape. Cue catfights, human sacrifice and a ten-minute chunk where all three leading ladies get naked, simultaneously but separately.
Daly (plus henchwoman Emily Booth) chews the scenery to fabulous effect, and the Raven/Celeste conflict is the stuff of which franchises are made – imagine Buffy and Glory, ten years after. Given sufficient beer, experienced bad movie lovers will appreciate the badly dubbed sound effects, clunky dialogue and cheap production values. But how can you not like a heroine who travels on the astral plane, yet still also uses payphones, clad in her little costume? It will, however, probably be some time before I get Chris drunk enough to pick Witchcraft XI from the unwatched pile…
Dir: Elizar Cabrera
Star: Wendy Cooper, Eileen Daly, Kerry Knowlton, Stephanie Beaton