"A grim fairy-tale."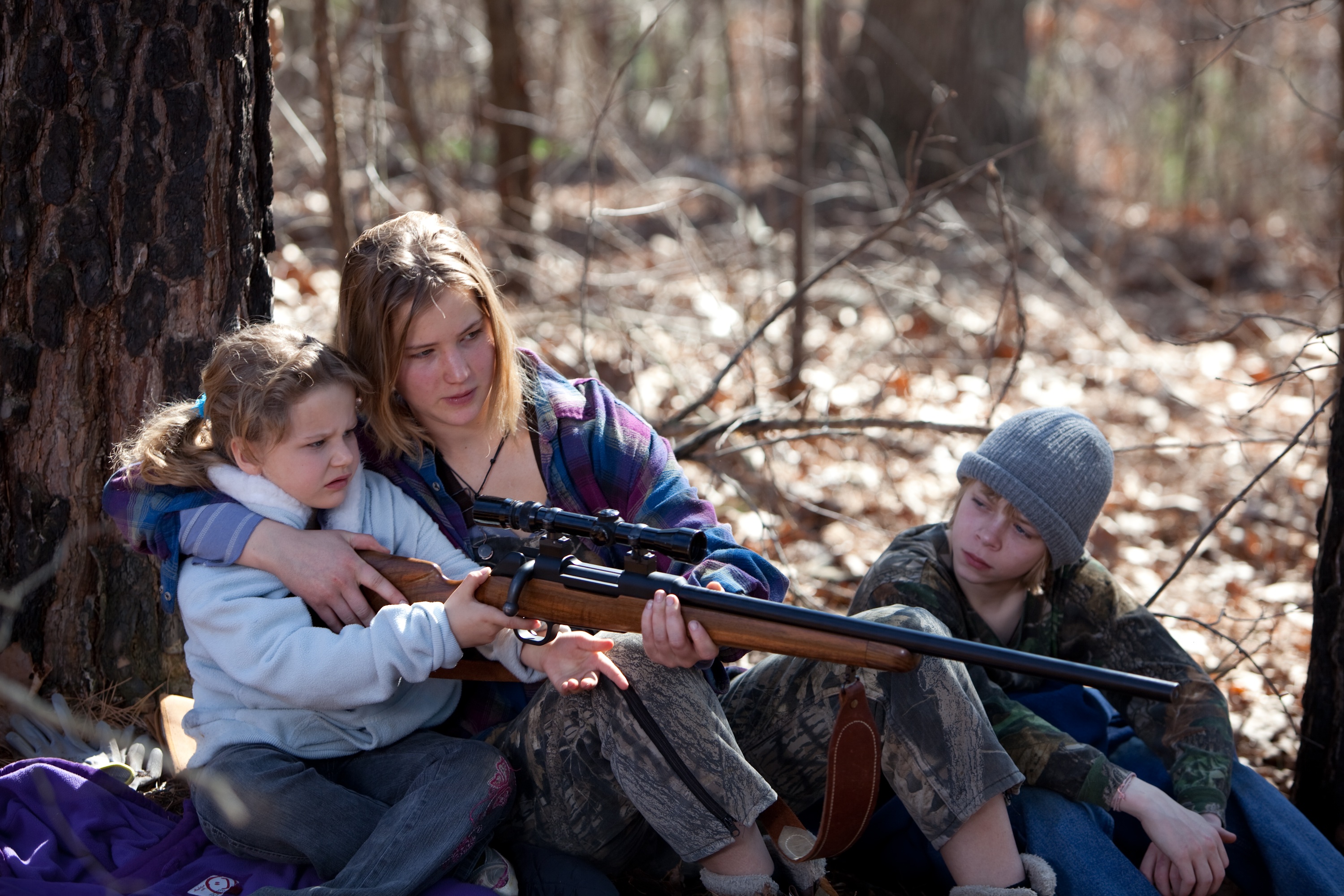 Not perhaps our traditional fare, but there's a good case to be made for its inclusion, with a strong, single-minded heroine who is prepared to do whatever it takes, including putting herself at considerable risk, to keep her family together. Certainly, you can see why Lawrence went on to stardom, and knowing her subsequently as Katniss Everdeen makes going back to her breakthrough role interesting. For you can see echoes of Katniss's steely determination in 17-year-old Ree Dolly, trying to cope with a mentally-ill mother, two young siblings and an absent father. She's just about coping, until she discovers that her father has skipped out on an impending court date for cooking meth, and put up the family home as collateral for his bail bond. If Ree can't track him down, the bail company will be able to seize the family's property and turf them out. Tracking him down is going to require Ree poking her nose into some very unpleasant corners of rural Missouri, where some intimidating characters have good reason for the missing man to remain that way.
It's a disturbing glimpse into a world that seems barely part of America. I haven't been so unsettled by a film's location for a long time – the only comparable movie I can think of, is the East European gypsy slum in Import/Export, which looked more like a bomb site than a functioning residential area.  Outside the natural surroundings of the Ozark Mountains, beauty is rare here; happiness, even rarer: survival is a full-time occupation, leaving no time for anything else. Outside of Ree, and her young sister and brother, who are too little to know different, there is hardly anything approaching a sympathetic character here. They virtually all pose a threat of some kind to Ree's mission, and she has to navigate her way through them as if they were wolf-infested woods, knowing the right time to push, and the right time to back down. Except, even Ree isn't fallible, which is how she ends up on the floor of a barn, beaten to a bloody pulp. Yet that's when help arrives, from an unexpected source, and I guess, almost everyone lives happily after. Or as happy as possible, given the circumstances.
Lawrence is great, convincing and sympathetic, resilient and focused, a heroine who is credible without being incredible. Indeed, all the performances hit the required spots, to a degree where you wonder if Granik simply put out a casting call for meth dealers. However, the script isn't as convincing, relying too much on people who have behaved one way, suddenly switching tack, for no obviously apparent reason beyond it being necessary for them to do so. It's not exactly light entertainment either, and if you're expecting flashy set-pieces, definitely look elsewhere. Falls more into the category of films which are to be respected, rather than enjoyed, yet Lawrence's portrayal takes the viewer along, on a trip into the heart of Missouri darkness.
Dir: Debra Granik
Star: Jennifer Lawrence, John Hawkes, Lauren Sweetser, Garret Dillahunt