Literary rating:
Kick-butt quotient:
"Poorly written, crypto-fascist vigilante wish-fulfillment."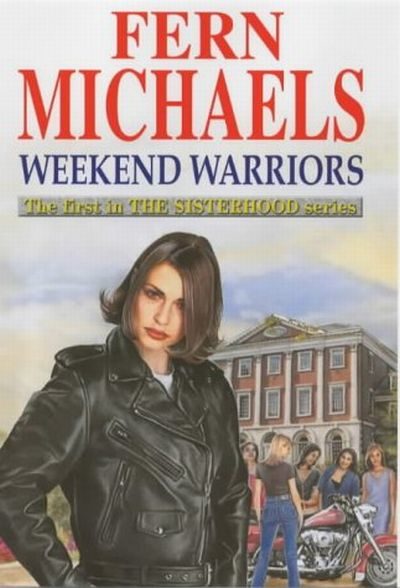 I think it's the "poorly written" aspect which I find most offensive. For I'm entirely down for some good ol' entertainment in the form of justified violence, from Dirty Harry through Ms. 45 to Starship Troopers. But this… Oh, dear. The most stunning thing was discovering that this was the first in a series of twenty-seven novels in the "Sisterhood" series. Twenty-seven. I guess this proves there's a market for this kind of thing, though I am completely at a loss as to who it might be. It certainly isn't me.
The concept of the Sisterhood is a group of women, who have all suffered some kind of unpunished misfortune, and have been brought together to enjoy the vengeance which they have been denied by the official system. The ringleader is Myra Rutledge, who conveniently for the series is an extremely wealthy woman. She lost her daughter Barbara in an accident caused by a driver with diplomatic immunity, which inspired her into acction. Assisting is Nikki Quinn, her late daughter's best friend, now adopted by Myra, who is a defense attorney; and a suave, British former MI-6 agent Charles Martin, who can apparently pull anything needed by the plot out of his suave, British arse.
There are various other characters, but they're so poorly drawn as to be little more than ciphers, ranging from a securities broker, to a token Oriental, Yoko, who runs a flower shop (and it appears, turns out in later books to be great at martial arts. What are the odds?). The only one worthy of note is the wronged woman in this opening installment, is Kathryn Lucas, a truck driver who was brutally raped by three members of an upscale motorcycle gang, while her disabled husband (now deceased) was forced to watch. She didn't bother to notify the authorities, for some unconvincing reason, and now the statute of limitations has expired. Naturally, They Still Must Pay – in this particular volume, with their testicles.
No, seriously. The convoluted plan hatched by Myra, Nikki and Charles involves some kind of contest involving the prize of a motorcycle, which will let them kidnap the culprits, castrate them in the back of a 16-wheeler converted into an impromptu operating room, and then dump them off with their now-separated family jewels. There is absolutely no part of this which is interesting, plausible or packs any kind of charge. You'd expect, or at least hope, that there would be some kind of dramatic arc here, but even Kathryn appears to achieve about as much closure from the retribution as would be gained by a trip to the supermarket. About the only plus is the lack of any real romantic subtext, though even here, I sense Nikki will be the source of much sexual tension down the road, with her district attorney ex-boyfriend, Jack.
I guess you could call it inspirational, in the sense that if this is the kind of rubbish which can lead to a 27-volume book deal, I'm inspired to take the same concept and knock up a bestseller over the course of this weekend. But otherwise, this is feeble nonsense – likely reaching its worst with the section where someone explains to Yoko, how to drive a manual transmission car. I should have given up at that point, and saved myself from further punishment.
Author: Fern Michaels
Publisher: Zebra, available through Amazon, both for Kindle and as a printed book.