"Swedish grindhouse: Some assembly apparently required."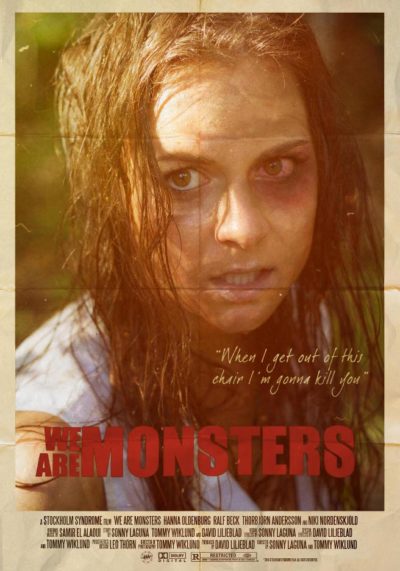 The rape-revenge genre is a problematic one. Done properly, it can be awesome, and pack a real wallop. See Ms. 45, or Thriller: A Cruel Picture for examples where the makers got it right. But there are an awful lot of mis-steps possible on the way. Unfortunately, this proves the point, mostly by being remarkably… Well, "bland" is probably appropriate, and is also damning criticism. For these kind of movies should be offensive, because rape is. If its depiction isn't hard for the viewer to watch, you're not doing it right. On that basis, the makers here definitely get it wrong.
Emma (Oldenburg) is on a business trip, in her role as a PR advisor, when she gets in the wrong taxi. She regains consciousness, tied up in a remote cabin. There, she's at utterly at the mercy of savvy psychopath Jim (Ralph Beck), and his simpleton sidekick, Pete (Andersson). It soon becomes clear she is not their first victim. And also, that they have no compunction about disposing of their left-overs. That's just the start of Emma's descent into hell, which is a necessary component of the genre. To be followed by her turning the tables and subjecting her attackers to equal brutality, to the cheers of the audience. In theory, anyway.
The first off-putting element is, it's supposedly set in America, yet clearly isn't, with accents roughly as convincing as Inspector Clouseau [Emma, bizarrely, is supposedly Australian – one presumes that was the only accent Oldenburg could do!]. There's no reason beyond crass commercialism, why its location couldn't be the real one, of Sweden. Then we get to the downswing, and there's no emotional impact at all. We're given no reason to care about Emma, except that she's the victim, nor any reason to hate Jim and Pete, save they're the perpetrators. Now, we don't need any more reason, but it's appallingly lazy film-making to rely on such a simply dynamic. The series of attacks are shot in such a superficial way they're frankly boring, when they should leave the viewer shaken and stirred.
There's also a thread where Pete spends a lot of time watching slasher films. If there's an intended moral there, it's a remarkably hypocritical one, given the genre in which this firmly operates. Eventually, after an aborted escape attempt or two, the inevitable happens. The makers do at least get that right, with Emma inflicting some truly brutal revenge, including one scene I defy any man to watch without squirming. Yet, the ineffective nature of what has gone before robs the revenge of any significant impact, and it instead falls into the category of "too little, too late." Having shallowly enjoyed the directors' previous effort, the "spam in a cabin" film Wither, their attempt here to recapture the spirit of the grindhouse era was severely disappointing.
Dir: Sonny Laguna, Tommy Wiklund
Star: Hanna Oldenburg, Torbjörn Andersson, Ralf Beck, Niki Nordenskjöld