"More suited for 'Cuties with Cues' than this site."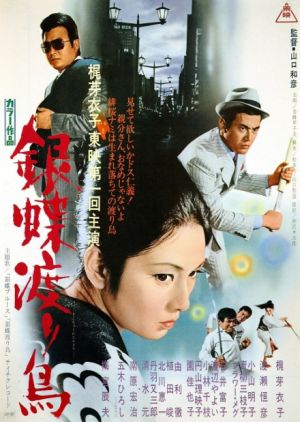 Nami is sent to jail for killing a Yakuza boss, and when she is released, returns to the Ginza district of Tokyo to live with her uncle, who runs a pool hall. She gets a job as a hostess in a bar, with the help of her new friend Ryuji (Watase), but the quiet life doesn't last for long, even as she tries to help the widow of the man she killed – whose petition on behalf of Nami is what helped lead to her early release. For the local mob, in the shape of Okada (Nanbara) and his gang, are sniffing around the bar, seeking to take it over. To settle things, Nami offers to take on Okada's champion at billiards, a challenge the gangster readily accepts, not realizing he has just been hustled, and that Nami is no mean player herself. Can she win – and even if she does, will Okada live up to his side of the bet?
While certainly fitting in to the overall themes of the genre, with a significant emphasis on revenge and its execution, this is another entry which downplays the more exploitative angles in favor of the dramatic elements. Put another way, if you want tits 'n' gore, look elsewhere. If, however, you want ten minutes of billiards with your heroine unconvincingly trying to imitate Paul Newman in The Hustler [a film whose poster can be seen lurking in the background during the match], this will be right up your alley. It's only at the finale that this delivers; with the ever-loyal Ryuji at her side, Nami ploughs into the Yakuza gang's HQ, to interrupt their group porno viewing, by releasing some of their other body fluids.
While Kaji possesses some undeniable presence, the script doesn't live up to expectations, meandering off in directions that prove neither necessary nor interesting, and the billiards match – even with its bizarre drug-withdrawal subplot – is a poor substitute for action. The film was (inexplicably) successful enough commercially to lead to a sequel, which includes Sonny Chiba playing a comedic pimp – I sense this is likely not the best use of his talents, and won't exactly be rushing to include it in this article.
Dir: Kazuhiko Yamaguchi
Star: Meiko Kaji, Tsunehiko Watase, Koji Nanbara, Tatsuo Umemiya