"Goddess of gamblers."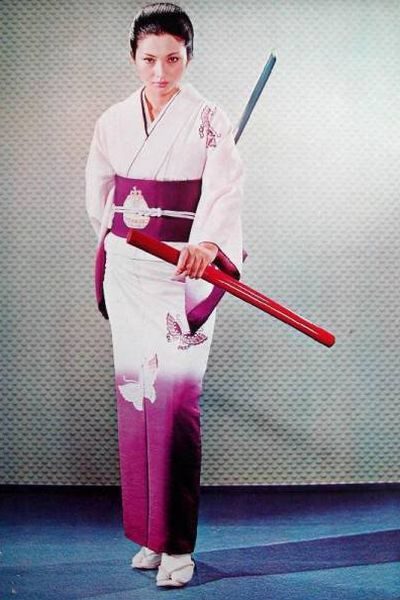 Nami (Kaji) – or, to give her character's full name here, Nami the Crimson Cherry Blossom – is still the same ice-cold, vengeful warrior as before. Though for this sequel, for some reason, she has switched to rather more traditional attire, in the shape of a kimono. She encounters Hanae, trying to escape a Yakuza sex-trafficking gang, to whom she has been sold by her father(!). Nami rescues her, subsequently wins Hanae's freedom in a card game, and returns her to Dad. Turns out he can shed some light on Hoshiden, the man who killed Nami's own father in a gambling spat, years earlier, and for whom she has been searching ever since. To find her target, Nami needs to embed herself deep in the murky, Ginza world of gambling and prostitution, helped by former friend Miyoko (Kagawa), now part of Hoshiden's organization, and rival pimp, Ryu (Chiba).
This is slightly better than its predecessor, though is still hampered by too much reliance on gambling. It doesn't help that the cards here are not the ones familiar in the West. As a result, we only know how the game is going by the reaction of the participants. Imagine watching Casino Royale with no idea of how poker works. It's like that. When not actually gambling, things improve, and interesting to see Chiba play somewhat against type. Ryu is more stammering comic relief than the typical Chiba hero, though this dates from 1972, a couple of years before his star-making role in The Street Fighter.
As in its predecessor, this isn't exactly action-packed. The opening confrontation, between Nami and the Yakuza gang on the bridge, looks like it's about to explode… Right up until she pulls a gun. That's not exactly very samurai (or geisha), is it, Ms. Kaji? From there until Nami and Ryu storm Hoshiden's headquarters, it's restrained, with more drama than swordplay. However, it is better at sustaining interest than part one, helped by aspects such as Ryu's noble approach to prostitution. As he says, "We don't force you or watch what you do. Our motto is clean, virtuous and classy," prompting the sarcastic retort from one of his whores, "Well, you sound like Governor Minobe!" [The socialist governor of Tokyo at that time]
These elements help tide viewers over the card-playing scenes, until all sword-swinging hell finally breaks loose. This is rather at odds with some of the broad stabs at humour previously attempted. The "how to use a bidet demonstration" scene sticks in my mind there, and not exactly as an iconic sequence of comedy. It doesn't sit easily in a storyline kicked off when a daughter is sold into sex slavery by her own father, and the ending of the series with this entry suggests the intended market was equally unimpressed.
Dir: Kazuhiko Yamaguchi
Star: Meiko Kaji, Sonny Chiba, Junzaburo Ban, Yukie Kagawa