"Not as good as the trailer. Then again, how could it be?"
Let's start with that trailer, shall we?
Like I said: no way it could live up to that, and I must confess, my consciousness was being sorely troubled by the end. It's about two sisters (Beatrice and Farida), who watch the gang of the evil, if nattily-dressed Mr. Tiger (Zulkarnaen) kill their parents and vow to take revenge, recruiting a bunch of like-hotpanted colleague to assist. Unfortunately, the attempt goes badly, and they end up in Tiger's dungeon, subjected to various indignities, such as being stuffed into a sack with a peeved mongoose, or tied to a spit and roasted. They eventually bust out, with the help of their captor's pet chemist, Larry (Capri), who has been tasked with producing large volumes of an aphrodisiac, from which Tiger can profit. It all climaxes in a massive battle between the gang and…the other gang.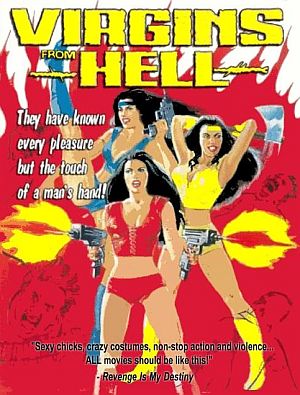 Let's be clear: most of the entertainment to be found in this, is strictly of the "so bad it's fun" variety. For instance, we perpetually found ourselves in Evil Overlord mode, i.e. "If ever I become an evil overlord, I will ensure my compound is not dotted with large, explosive barrels, clearly marked DANGER." The lameness of this is often amusing, such as the complete aversion to nudity, an obvious product of its origins – the heroines even take baths with their clothes on. Other elements are just bizarre, if educational: it appears, if you get shot, you can jam a live snake into the wound and it will come out holding the bullet in its teeth.
Great as this may sound, the novelty and appeal do evaporate steadily, with the cheapjack production values, non-existent characterization and idiotic plotlines eventually more outstaying their welcome, even for a fan of badfilm like me. The highpoint is likely the gratuitous appearance of a musak cover of Nights in White Satin. It will have Justin Heyward on speed-dial to his agent, and you're likely better off watching the trailer again.
Dir: Ackyl Anwari
Star: Enny Beatrice, Yenny Farida, Harry Capri, Dicky Zulkarnaen