"Action cinema levels up in Korea."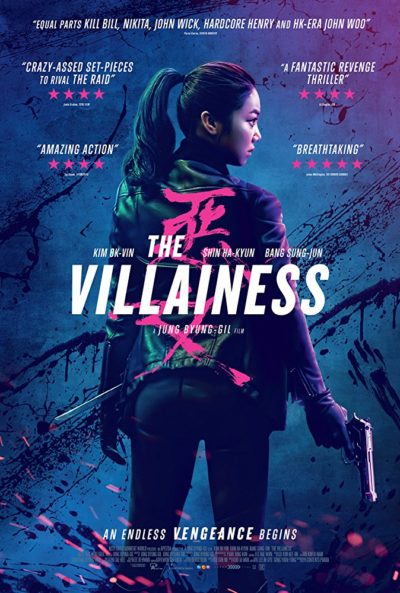 This opens with a blistering seven minutes of action which starts off in first-person perspective, looking like the most deranged video game ever, as the protagonist slices, dices and shoots their way through a building to a confrontation with the final boss. After being slammed head-first into a mirror, the point of view changes and we see the attacker is a young woman, Sook-hee (Kim Ok-bin). Finishing her slaughter, she calmly accepts arrest, but the Korean intelligence services recruit her, hoping to channel her skills to their own ends, after a spot of plastic surgery to ensure a fresh start. When training is completed, under Chief Kwon (Kim Seo-hyung), she's given an apartment, unaware that the man next door, Jung Hyun-soo (Sung), is actually her handler. However, he's not the only person with something to hide. Because Sook-hee is out to leverage her new position, and is still after long-awaited revenge on the man who killed her father.
With a storyline that's little more than equal parts of Nikita and Kill Bill, deep-fried in a crimson vat, the only way this is going to survive is to be all about the style. Fortunately, it delivers on that aspect by the bucket. I watched that opening sequence three times before I could bring myself to proceed, and other set-pieces are almost as spectacular (and slightly less motion sickness inducing!), such as the sword-fight on speeding motorbikes. Or the final battle on a bus. Or… Yeah, let's just say, when this is in motion, it's utterly glorious, demented and bloody beyond belief. The problems are when it isn't, with a horribly muddled narrative structure which also seems cribbed from Tarantino. So it's extremely heavy on the flashbacks, and leaps around the heroine's time-line like an amphetamine crazed mountain-goat. The payoff, when it arrives, certainly isn't worth the effort: I'd figured it out, well before the dramatic revelation arrives on-screen.
So convoluted and murky is the story, that I found myself increasingly tuning out, and was more or less disinterested in the characters' fates, most damningly that of Sook-hee. About the only person I cared about was her little, moon-faced daughter, whose serious expressions provoked more emotion in me than all the contortions performed by the plotting. Director Jung, like David Leitch of Atomic Blonde, has a background as a stuntman before moving into direction, and perhaps that explains why it feels as if the attention and effort here have gone into those elements. In comparison, the script is something which could well have been cobbled together on the back of a beer-mat, after an all-night video session, and then run through a shredder in an attempt to instill it with some artistic merit. Jung is certainly an action director to watch, and I'll be very interested to see where he can possibly go from here. Is there a setting for cinematic violence above eleven?
Dir: Jung Byung-gil
Star: Kim Ok-bin, Shin Ha-kyun, Sung Joon, Kim Seo-hyung