"Corman gonna Corman."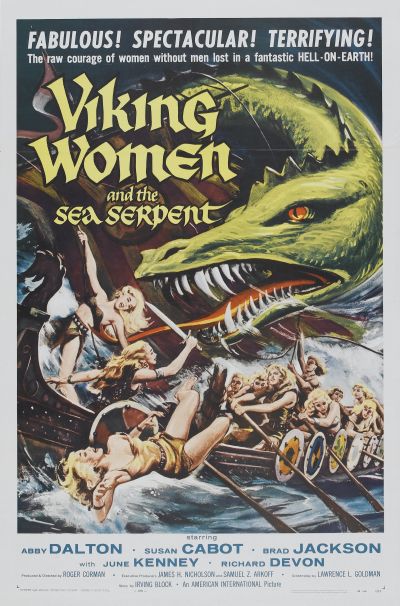 I can see why, purely for reason of brevity, the title above was preferred to the full one of The Saga of the Viking Women and Their Voyage to the Waters of the Great Sea Serpent, even though the latter is more accurate. For the Sea Serpent has a supporting role here, met once on their way in, and again on the way out – it's much more about what happens in the middle. Three years after their men left, the women of the Stannjold clan leave their shores under the command of Desir (Dalton), trying to find out what happened to them. Encounter #1 with the monster leads them to be shipwrecked on the same shores of the Grimault tribe as their menfolk, whose king, Stark (Devon), has set them to work as slaves in his mines. After initially appearing to welcome the women, it becomes clear that Stark has plans for the new arrivals as well. Viking high-priestess Enger (Cabot) has her own agenda, however: having set her eyes both on Desir's husband and, for more immediate and pragmatic reasons, Stark, she sabotages Desir's first attempt to free the men.
Sometimes derided as among the worst movies of all time, it really isn't that bad – it wasn't even the worst movie I saw yesterday. Certainly, it's guilty of biting off far more than it can chew. If the claims on the (quite lovely) poster above, of "fabulous" and "terrifying" are dubious, it's the "spectacular" one that is widest of the mark, with a budget even the legendary Roger Corman subsequently admitted was woefully short of delivering on the concepts. [It didn't help the scheduled lead actress demanded more money on the first day of shooting, so was fired, and replaced by Dalton] While Stark, for example, may be king of all he surveys, that appears to encompass about 12 men and a stretch of coastline obviously far more California than Scandinavia. And let's not even get into rear-projection which dreams of reaching the heights of "utterly unconvincing," or a sea-serpent which… Sorry, my supply of derogatory epithets falls entirely short of doing it justice, so best I don't bother.
However, even if they look more like fashion models than Vikings, and act in some ways like giggly high-school girls, it's still more laudable than, say, Mars Needs Women. The heroines here are actually portrayed as fairly competent – let's face it, they survived without any men for three years – and brave, being willing to set sail in search of, and then attempt to rescue, their other halves. Both Dalton and Cabot are engaging, with the blonde naturally the good girl, though even the slutty one has an eventual crisis of conscience and is prepared to make a brave sacrifice for the greater good. At 71 minutes, it certainly can't be accused of outstaying its welcome: while certainly dated, cheap and silly, this is definitely not boring, and its heart is in the right place.
Dir: Roger Corman
Star: Abby Dalton, Susan Cabot, Bradford Jackson, Richard Devon
[a.k.a. The Saga of the Viking Women and Their Voyage to the Waters of the Great Sea Serpent]