"Uneven historical action: early example of woad rage?"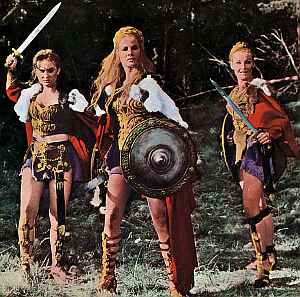 Hammer were best known for their horror movies, but tried virtually every genre save Westerns at one time or another. This Roman "epic" is loosely based on the life of Boadicea, who led a revolt against the Romans in the first century A.D. They get the name of her tribe right (the Iceni), and some basic facts, such as her suicide after capture, but change her name to Salina and sprinkle in some wild inaccuracies. Despite the title, there are no actual Vikings to be found, and we also get the Druids worshipping Zeus, a Greek god!
The low budget is painfully obvious, particularly in the battle scenes, where you can almost count the participants, and the lack of sets beyond tents. In between times, however, it's not such a disaster, with a script that pits merchants, Druids, Britons and Romans against each other, and allows for infighting, treachery and backstabbing galore. The main thrust is the budding romance between Salina (Carita – her only screen role, one source indicating she went back to being a hair-dresser) and Roman governor Justinian (Murray), who fall into a lake before falling into each other's arms, to the chagrin of people on both sides.
Salina eventually has to strap on the armour herself and go to war, but her lack of experience (in both acting and action) is painfully obvious. The likes of Hammer regular Keir, as Justinian's treacherous second-in-command, perform with commendable endeavour; it isn't really enough to save this half-baked effort from failing on most levels.
Dir: Don Chaffey
Star: Carita, Don Murray, Andrew Keir, Donald Houston