"That's Ms. Smooth to you…though that's the last word to describe this atrocity!"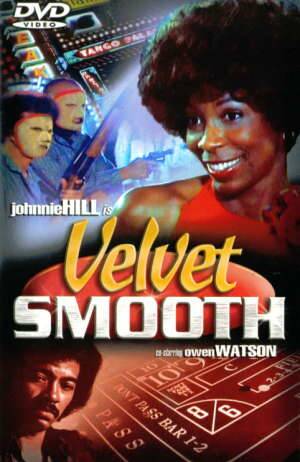 Let's be perfectly clear about this: at least one, possibly more, of the points awarded to this movie only apply if you, like us, are connoisseurs of the trash aesthetic. If you delight in bad acting, poor action and technical ineptness, this is for you. Otherwise…consider yourself warned. Not to be confused with Jeannie TNT Jackson Bell, this was Johnnie Hill's only film – and when you've seen it, you'll understand why. She plays Velvet, a private investigator brought in, along with her two female sidekicks (also adept in martial arts, even if we are redefining the word "adept" here), when someone starts encroaching on a crime lord's territory. Who is behind this? And who is behind them?
From a story point of view, it's actually not too bad, with a bunch of twists that keep things interesting. In every other way, however, it plunges into the Marianas trench of quality; witness, in particular, the boom-mike, beginning at 27:47 minutes in, which gets screen time that most actresses would kill for. The fight sequences are woeful; half are shot from such long range, you can barely see what's going on, and the rest…well, when you see them, you'll know why the makers opted for the long-range technique. The foley work is especially inadequate, in particular, the sound of a drum that accompanies every punch to flesh. On at least two occasions, we had to rewind the DVD repeatedly, because we literally didn't believe what we were seeing – and not in a "Michelle Yeoh, train, bike, Supercop" way.
I guess it's inevitable that even such a shallow genre as blaxploitation would be a target for cheap knock-offs, made by the talentless. About the only point of vague interest is a guest slot for the wonderfully-named Emerson Boozer, 2-time Pro Bowl running back for the Jets. It's clear why his acting career didn't take off, and in general, you wonder how such shoddy work could ever have been considered adequate. The old saw – this movie wasn't released, it escaped – comes to mind. I think it'd have been better if Velvet Smooth had been held in Alcatraz.
Dir: Michael Fink
Star: Johnnie Hill, Owen Watson, Frank Ruiz, Emerson Boozer