"Had me at 'chainsaws', to be honest."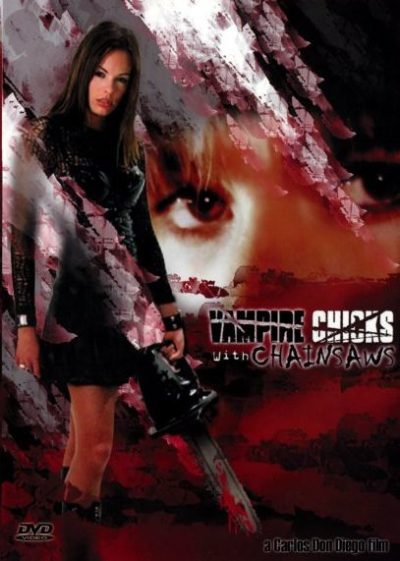 This probably seemed better than it is, simply because it had the benefit of being watched immediately after Iconoclast. Two hours of static would have been an improvement on that. All told, this doesn't suck. While clearly extremely low-budget (it reportedly cost a thousand bucks), and I'm not sure the plot would stand daylight any better than a vampire, it does at least deliver on what the title and sleeve promise. Indeed, within the first five minutes, we have fanged women wielding mechanical wood-cutting equipment. Check, check and check, even if the specific woman on the poster is not actually in the movie.
It plays somewhat like a backwoods version of Underworld – there's certainly a lot more running through forests. By this, I mean the vampires are engaged in a centuries-long war against their enemy, into which an innocent human man is drawn, only for the lead vampire ass-kicker to fall in love with him. The vampires here also seems to share the same couture choice, albeit (obviously) at a much lower level of budget. The main difference is the opposition is provided, not by werewolves, but extra-terrestrials called "outlanders". They came to earth and mated with our species, the resulting offspring being vampires. However, again for reasons of cost, the aliens are indistinguishable from humans, except for coughing up green blood when shot, stabbed or cut up (out of shot) with chainsaws.
The hero is Quinn Ash, whose life has sucked since his wife left him, and he's living in crappy trailer, thoroughly disgruntled. Even though he's a redneck in a vest. he speaks in voice-over, like a private eye in a hard-boiled film noir. Things change, albeit not necessarily for the better, when he literally runs into a young woman on a country road. Remarkably unhurt, she injects him with a syringe and runs off, before being captured by a group of men. Quinn is then captured too, by Karel (Lisonbee) and her vampire posse. They eventually – and by this, I mean after about 40 minutes where neither hero nor audience have any clue what's going on – explain the scenario. Turns out Quinn had been injected with an experimental drug, developed by the outlanders to kill the otherwise immortal female vampires. So, the makers have seen Ultraviolet as well.
With a bit more money, this could have been worthwhile, even if the scenario (as noted) largely consists of aspects cobbled together from elsewhere. Instead, there's too much running around in woods, and even the chainsaws are almost entirely sound effect. The script also needs to establish what the hell is going on a lot quicker: by the time there's any meaningful exposition, you're halfway through and have largely given up hope. All this said, it was never specifically dull, and I'd not mind seeing what Diego could do with a bit more resources. But this was simply a significant improvement on Iconoclast, and I'm very grateful for that alone.
Dir: Carlos Don Diego
Star: Adam Abram, Jenna Lisonbee, Jamie Rosquist, RaeAnn Christensen