"Dull as ditches-water"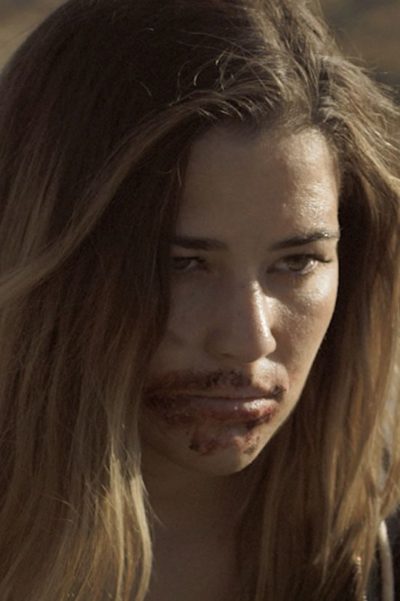 After a brief prelude, we first see the heroine Emilia (Todisco) tied in the back of a car belong to her abductor, Sean (Fenton), who is nearby digging what appears disturbingly like a grave. He is seriously unhinged and driven by his loony religious faith to punish those whom he perceives as deserving the wrath of God. Which in this case would be Emilia and her boyfriend, Michael (Sless). Emilia's first escape attempt does not end well, and she finds herself in the hole in the ground, handcuffed to the corpse of her boyfriend. Now what?
The answer, unfortunately, is "not nearly enough." I think it's the lack of any real development of the characters up front which is the main problem. There's something to be said for cutting straight to the meat of the matter. Except here, we don't have any reason to care about Emilia, before we're thrown in alongside her, and immediately expected to root for her escaping this predicament. There's no particular motivation given for any this, beyond Sean's burbling about Old Testament stories, including the one which gives the film its name. He's the same, cookie-cutter slice of fundamentalist fruitcake we've seen a million times before: I'm not in the slightest religious, and even I found this more annoying than convincing.
There are various flashbacks to Emilia's earlier life with an abusive father (Novell), and I read that abuse is supposed to be one of the film's main themes. It says a lot that I had to read this, because the film certainly does not do enough to put its point across, whatever this may have been intended to be. There's an awful lot of sitting around in the desert, and the heroine takes about ten times as long to reach the necessary decisions as I would, given the same circumstances. [I'd start with the principle: "Look, he's already dead…" and quickly figure things out from there]
I will admit, there's something to be said for the sparse approach here. There are really only three characters, and the location is mostly the desert, both aspects which cut back on the potential costs. It's a setting which could be leveraged into a taut, effective thriller, pitting Emilia against Sean in a lethal struggle. Yet instead, there's precious little tension generated after the first few minutes, particularly after Sean appears to have wandered off entirely, for some ill-defined reason. There's a final face-off, in which vengeance is sought; I'm not sure it makes much sense, based on what has happened to that point.
This is probably all a little too "indie" for its own good, not least in the soundtrack, which seems to have strayed in from a hip, locally-owned coffee bar. The points it's trying to make might have been better served by another genre, rather than dressing it up in the guise of a thriller, that doesn't appear particularly interested in providing any thrills.
Dir: Christopher James Lang
Star: Amanda Todisco, Russell Bradley Fenton, Jeremy Sless, Andrew Novell