"Tumblr in action-movies"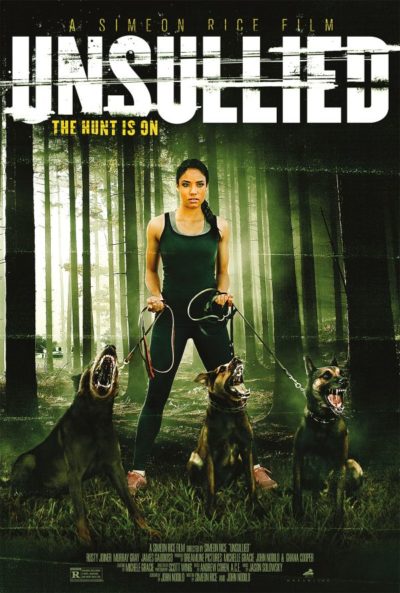 If you're looking for unsubtle social commentary, you're in the right place, because this take on The Most Dangerous Game ticks off the trifecta of -isms:
Sexism: men abusing women
Classism: the 1% versus the 99%
Racism: the main protagonist is black, all the antagonists are white.
Heroine Reagan (Gray) is a track star on her way to a college meet, when her car breaks down in a remote area of Louisiana. Unfortunately for her, this leads her into the grasp of Noah Evans (Joiner, looking very much like Brad Pitt's stunt double) and Mason Hicks (Gaudison), two stockbrokers with a fondness for kidnapping and hunting down young women. They have the deep pockets to ensure that just about everyone in the local area looks the other way, so Reagan is on her own. However, might her athletic ability make her survival changes rather better than the previous victims?
I was kinda hoping this might be some kind of Game of Thrones spin-off – if you don't watch the show, the title is shared with one of the fiercest warrior armies there. Unfortunately, Reagan's main skill is, as you might surmise from the synopsis, running away rather than combat, so there's a lot of jogging here. And swimming, too, for some reason. You also get copious flashbacks of back-story, since Reagan's sister mysteriously vanished some time previously. You don't exactly need to be a psychic to figure out where that plot-thread is going to lead, in a remarkable piece of happenstance which will likely stretch disbelief for even the most credulous of viewers.
Director Rice is actually a former NFL defensive end, which I think is a first. I've seen a few go on to be actors, such as Fred Williamson and O.J. Simpson, but not direct. Save for a couple of flashy "Go Pro"-esque shots, he takes a workmanlike approach in his debut feature, which is likely wise. Gray is proficient enough too, putting over strength and resolve which is appealing. The problems here are largely in a script which concentrates on the duller aspects, to the exclusion of potentially more interesting ones, such as the apparent way the hunters have bought the connivance of the entire town. Yet even this doesn't make sense, with them randomly killing someone who appears to be entirely on their side. Because they're bad people, that's why. Hey, they're bored and rich, young white men. What else would you expect?
That may be the core here: an almost total lack of motivation for everyone in the cast, from the moment Reagan blithely decides to get in her abductors' truck – minutes after cautiously spurning a single man who tries to help. Thereafter, the film relies too much on mutual idiocy. For every moment where Reagan, say, decides to start a fire for no particular reason, there's one where a captor doesn't bother to tie her up. The number of times I rolled my eyes was likely exceeeded only by the number of derisive snorts.
Dir: Simeon Rice
Star: Murray Gray, Rusty Joiner, James Gaudioso, Erin Boyes