"The Adventures of Grandmistress Karen on the Wheels of Steel"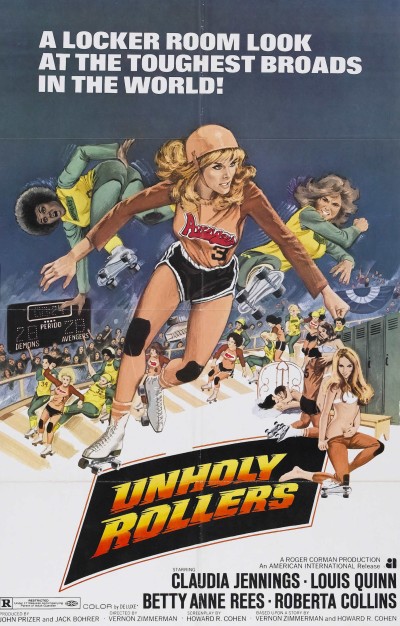 Winner of Most Unexpected Credit goes to this roller-derby exploitation flick, out of cheapie producers American International, because the opening credit proclaim, "Supervising Editor – Martin Scorsese." Yep. THAT Scorsese, the year before anyone much noticed him with Mean Streets, worked on what would now be called a "mockbuster" – Scorsese later describing it in Scorsese on Scorsese as "the rip-off of the Racquel Welch movie about roller-derbys, Kansas City Bombers". However, it ended up trailing in to cinemas in Bombers' wake and, according to its editor, "was destroyed." That's a shame, as there's a nicely gritty feel to this, which rings true. It certainly acknowledges that the action and fights in roller-derby may be staged, but – as we've seen in the local roller-derby scene – the inter-personal dramas are entirely real. It also reminded me of the independent pro wrestling world, of which we've had some experience, promoter Mr. Stern (Quinn) harping on about showmanship, perpetually aware of the need to give his audience what they want.
And, what they want is Karen Walker (Jennings), who quits her job in a canning plant after one too many bouts of sexual harassment, and tries out for the Los Angeles Avengers. Making the team, her no-holds barred approach to competition wins over the fans, much to the disdain of current audience favourite, Mickey Martinez (Rees). Karen's rise is, correctly, perceived as a threat by Mickey – though only has herself to blame, having led the rest of the team in humiliating the rookie at a bar, after she rebuffs Mickey's sexual advances. Karen is rescued by the captain of the Avengers' male squad, Nick (Warela), and they begin a torrid, hot-cold affair, in part due to Nick's marital status. As the tension between Karen and Mickey grows, Stern senses an opportunity, and transfers the veteran to the Avengers' hated rivals, the San Diego Demons. setting up a show-down between the two, which touches off Karen's fuse, in no uncertain terms.
Roger Ebert called Jennings, "the hardest, most vicious female performance in a long time," and you can see why: there's not much effort here to make her likeable, and that's a good part of the appeal. She's all spiky, defiant attitude, and any attempts to make her conform simply result in greater rebellion. Meanwhile, the cheapskate nature of the whole operation is made clear before the opening credits, with a brutalized rendition of The Star-Spangled Banner. Jennings is clearly doing a good bit of her own skating, with a lot less protection than Ellen Page had in Whip It, Throw in the funky retro-sounds of Louie and the Rockets, and you've got something which makes for an entertaining time, even if many of the supporting performances are basic at best, and the film doesn't so much end, as crash headlong into the end-credits. Still, this is a case where lack of polish perhaps works for a film, as much as against it.
Dir: Vernon Zimmerman
Star: Claudia Jennings, Betty Anne Rees, Louis Quinn, Jay Warela