"Game of Vampires"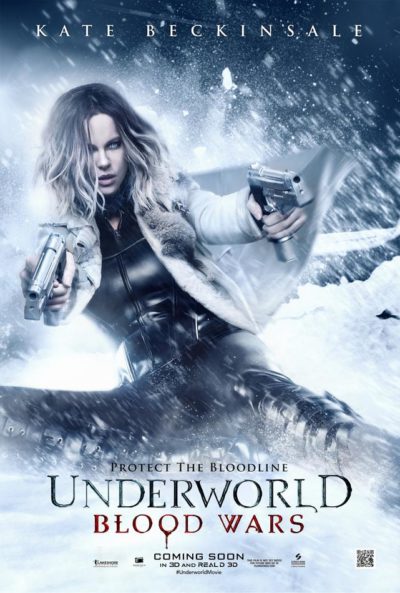 At this point, five movies into the franchise, it probably becomes churlish to complain about the aspects that have sustained the series thus far. You're watching an epic war, waged down the centuries, between vampires and werewolves. It is, literally, non-sense. This, however, is separate and independent from any entertainment value, and despite some issues, this is perhaps the best in the series since the original [some may argue for the third entry, but that appears to have strayed in from a different franchise entirely, containing only peanut-allergy level traces of Selene].
Wisely, it begins with a "previously on Underworld" synopsis: it has been four years since the last installment, and neither Chris nor I could remember much of it without checking Wikipedia. Brief précis: Eve, the daughter of Selene (Beckinsale), is the key to determining who wins the vampire-lycan war; Selene has abandoned Eve and wiped her own memories to avoid being used to track her down. Now, moving into the current edition: word of this doesn't appear to have reached the powers that be. For both her own team, under Thomas (Charles Dance, occupying the "British thespian" role previously occupied by Bill Nighy), and the rising werewolf overlord, Marcus (Menzies), want to use her to their own ends. After a bit of slaughter and betrayal, Eve and Thomas's son, David (James) are forced north, to seek refuge in the last vampire coven, with Marcus and his pack in hot pursuit.
By this stage, Selene is clearly a character that gives precisely zero fucks. She's lost her family, her one true love and her daughter in earlier installments, and the bastards still won't leave her alone. By the end of this one, she has made some gains, in the shape of slutty blonde highlights and powers resulting from one too many sessions playing Mortal Kombat. I find myself endorsing both of these. It's apparent the writers here are also big Game of Thrones fans: the Northern vampires are a cross between the Night's Watch and Daenerys Targaryen. The whole back-stabbing familial stuff is cut from that cloth as well, and Dance isn't the only Thrones face to show up. No, not Peter Dinklage, though the idea of him as a were-corgi appeals greatly.
It comes in at a remarkably brisk 91 minutes, a pace from which certain other movies could learn [I'm looking at you – and my watch – Rogue One], and there's not much slack. Nor, admittedly, is there much of a complete plot: the ending opens more doors than it closes, particularly with regard to Selene's new abilities. There are some elements that appear more style than substance, such as the heroine drinking her own blood to remember things. Wouldn't it be easier to… ah, just remember things? I can only imagine a vampire going, "Now, I know there was something I had to do today. What was it?" [gnaws on wrist] "Oh, yeah: take the garbage out. Anyone got a Band-Aid?" It's on much safer ground sticking to the hack-and-stabbage, though we could have done with some better lighting there. Disclaimer: we watched the 2D version, theatrically. Your mileage may vary in more dimensions, or at home.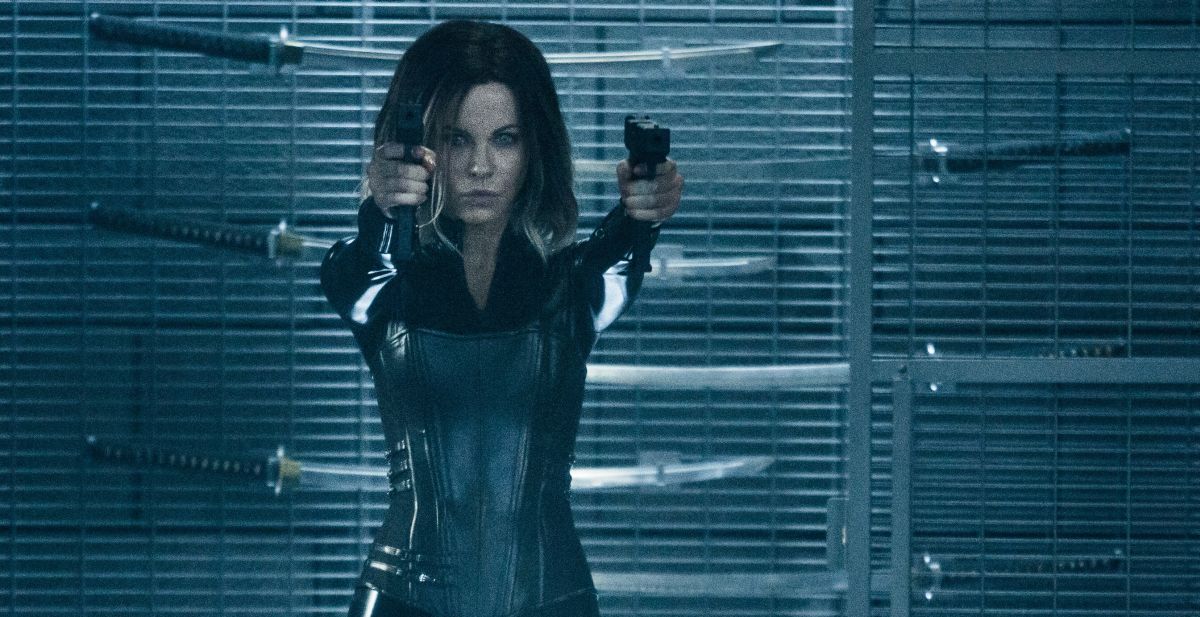 On the plus side, we get a couple of bonus strong female characters. Lara Pulver makes a good impression as the scheming vampire, and Clementine Nicholson does a fine imitation of a low-rent Emilia Clarke, playing the Nordic Coven's leading warrior, Lena (maybe another GoT nod in that name?). On the downside, the CGI werewolves still look awful, particularly during their transformations, and there's another (sigh) vampire-werewolf romance, which works out as well as they always do i.e. not very. You'd think people would have learned by now. Then again, this is a universe where Kate Beckinsale is basically the same as she was in 2003 when the first film came out, and is still capable of kicking ass while being easy on the eye.
Interestingly, this entry was directed by a woman. Foerster makes her feature debut, though she has helmed episodes of Outlander, a show set just a few miles from where I grew up in Scotland. Sorry, that's not relevant to anything – what probably is, is that Menzies played that series's main villain. Foerster also did second-unit work on Aeon Flux and was director of photography on White House Down, so has action experience. Hard to say if this makes any particular difference to the tone here, but I generally support more women directors in our genre, as they can potentially offer an alternative perspective. Here, though, it's simply another entry in the franchise. If it's unlikely to lure in or convert any new fans, those who appreciated the previous four entries are probably not going to come away feeling short-changed.
Dir: Anna Foerster
Star: Kate Beckinsale, Theo James, Tobias Menzies, Lara Pulver