"The evolution of species"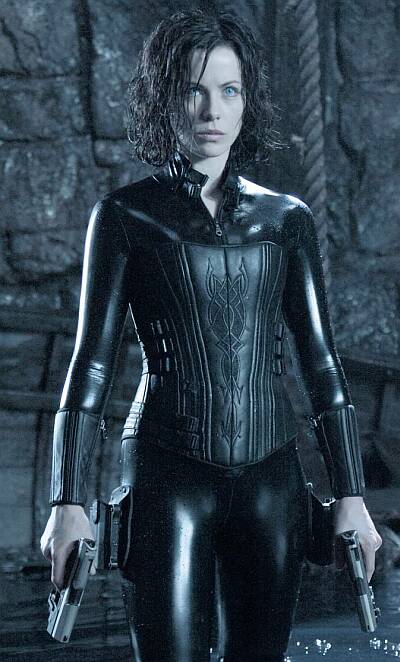 While undeniably flawed, the original Underworld had a big ace up its sleeve, in the basic concept of "vampires vs. werewolves", which hadn't received such a full-on depiction in cinema before. This time, the idea is familiar, and the story doesn't have anything quite as cool to replace it. Sure, there's the old fall-back of Kate Beckinsale in a PVC suit, but the sense of something genuinely new is rarely apparent. Sure, it's a sequel, which in Hollywood translates to "more of the same", but the lack of invention on view is still disappointing.
We start with a flashback to medieval times, explaining the basic premise, involving two immortal brothers, one bitten by a bat, the other a wolf. [A third brother was nibbled by a narwhal, but his role ended up on the cutting-room floor. Okay, I made that up.] Anyway, the lycanthrope is captured and locked up in a secret location by Victor (Bill Nighy – mercifully, only cameoing, since it's impossible to take him seriously after his wonderful performance in Shaun of the Dead. We kept muttering, "I ran it under a cold tap…" every time he appeared). Back in the present, the vampire, Marcus (Curran), has been freed, and is now out to release his brother.
Meanwhile, Selene (Beckinsale) and her vamp-lycan hybrid lover Michael (Speedman) are bouncing around, trying to settle down and raise a family, of what I guess would be mostly vampires, but ones that get a little frisky around the full moon. Quite why they need to get involved in the storyline of the previous paragraph is unclear, but they do. And it's probably relevant that contemplating the breeding habit of night creatures, and quoting lines from a British zom-rom-com were perhaps the best entertainment the film provided.
It isn't entirely without merit though. Marcus is a memorable creation whose wings function as impressive weapons, and the effects are highly messy. In particular, the final two fights – and at least, this time, Selene does more than administer the coup de grace – both end in immaculately splattery ways. Though as an aside, I'm impressed with the sturdiness of a helicopter that can come crashing through a roof, yet still have engine and rotors running. But the action, on the whole, is fine, with an excellent chase which has Marcus harrying a truck, while Selene and Michael try to fend him off.
No, it's the moments between the battles that are the problems, not least a dumb and gratuitous sex scene between Selene and Michael that appears to have wandered in from an airline version of a SkineMax movie. And the exposition also has to count as among the most leaden of recent times, achieving the rare double-bill of sending Chris and I independently off to sleep. Hey, we'd been out boating all day. So sue us. :-) However, for any action-fantasy to have both of us snoozing is definitely problematic.
So the results are disappointing, largely lacking the sense of style and invention that made the original a pleasant surprise (as well as something of a sleeper hit). However, it did well enough at the box-office to leave a third entry possible, and particularly when in motion, there was still sufficient life in the franchise to suggest that might not be an entirely bad thing. However, any future storyline must be limited to whatever complexity can be scrawled on a beer-mat. Anything more, and the scriptwriter should be sentenced to mop out sweat from Selene's costume. With his tongue. :-)
Dir: Len Wiseman
Star: Kate Beckinsale, Scott Speedman, Tony Curran, Derek Jacobi