"Buffy the Zombie Slayer goes for a dip."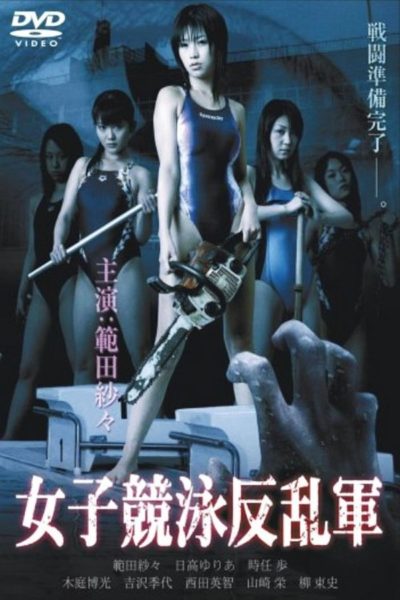 I strongly prefer the alternative name (as given in the credits below, though in some territories this was also known as Inglorious Zombie Hunters) – it's one of the finest exploitation titles of all time, both describing exactly what the film is about, while simultaneously reeling in the potential viewer. Certainly beats something which sounds more like an Asylum "mockbuster" version of a certain, snarky Marvel superhero. If the product itself doesn't quite live up to it's own name, this mostly a case of, really, how could it?
New transfer student Aki (Handa) has the misfortune to arrive at the school on inoculation day, and ditches class to the stress of her new situation, so doesn't get her jab. This turns out to be extremely fortunate, as the supposed "vaccine" turns out to be the plot of an evil scientist, and those injected with it – both students and teachers, the latter receiving a particularly strong version – turn into flesh-eating zombies. Despite Aki's strong aversion to water, she finds some allies in the shape of Sayaka (Hidaka) and her colleagues on the girls' swimming squad, because it turns out the chlorine in the pool negates the effects of the compound. It's up to them to defend themselves from the hordes, and also resolve the murky nature of Aki's previous history, which turns out to be not entirely disconnected from current events. Oh, yeah: there might be some lesbian canoodling as well. Just so you know.
The zombie aspects in particular are well-executed: energetically messy, with plenty of blood and a sense of self-deprecation that helps to counter-balance negates the obviously low-budget approach, most apparent in the rubbery nature of the severed limbs, flying through the air. It's as if the film is saying, "Yeah, we know we're cheap, come along for the ride anyway." It helps that the zombies retain some of their pre-infection character, rather than being just mindless flesh-eaters. For example, there is the maths professor who continues to mumble about a problem involving apples, while wielding an inexplicably razor-sharp yard-stick around. Mind you, this is a school which leaves chainsaws lying around, and than there's also Aki's spiked swim-fins [which looks and acts like the iron fan beloved of martial arts flicks]
There is, as you'd expect, copious fan service – though the title does at least explain the swimsuits, which are likely less gratuitous here than in, say, D.O.A. This is probably the least interesting aspect, and I was reminded of Fred Olen Ray's comment that nudity is the cheapest special effect. The finale, where Aki reveals one particularly startling special talent, likely doesn't stand up to scrutiny either: quite how she acquired the skill is never adequately explained. While there was still enough here to keep me entertained, this mild recommendation should come with a caveat that I'm significantly more tolerant of low-budget goofiness than most people.
Dir: Kōji Kawano
Star: Sasa Handa, Yuria Hidaka, Hiromitsu Kiba, Mizuka Arai, More
a.k.a. Attack Girls' Swim Team vs. the Undead