"An old-school Western delivers a very pleasant surprise."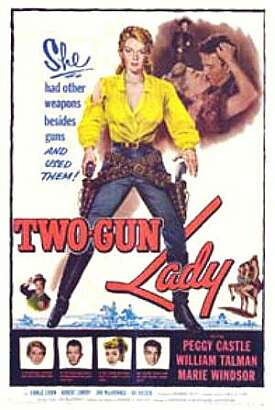 Trick-shot artist Kate Masters (Castle) comes to a remote town with her show, raising suspicions among locals, who suspect she's more than she seems. They are led by Jud Ivers (McDonald) and his family, who rule the area with an iron grip. This 1955 B-movie (in the original sense – it's only 71 minutes long) crams plenty in, with almost everyone having secrets, good or bad. Castle makes a fine heroine, exuding strength but ultimately vulnerable, and is matched by the rest of the cast. Particular credit to McDonald, and Jennifer Jason Leigh's mother, Barbara Turner, in her movie debut as Jenny Ivers; both bring depth to what could be one-dimensional characters.
This certainly has predictable elements (the fate of Jenny's lamb is inevitable), yet punches surprisingly above its weight, with exchanges such as the following, on the nature of frontier justice:
    "You the sheriff?
    "No. Just the law…"
It does drag in the middle, thanks to a tedious subplot involving a US Marshal (Talman) out to get the Ivers clan, which reached its nadir in a very dull horse chase. There's also a very odd part where Marie Windsor walks into a scene she's not involved in, and leaps back, visibly startled – how that take stayed in the film beats me. But the finale, pitting Masters against the fastest gun in town, is very nicely staged, and will likely bring animal lovers everywhere to their feet.
Most remarkably of all, our 18-year old son, more used to Buffy and Alias, sat and watched this b&w Western, made three decades before he was born. And we weren't even in the room. Praise, indeed.
Dir: Richard Bartlett
Star: Peggy Castle, William Talman, Ian McDonald, Marie Windsor