"To bead, or not to bead, that is the question…"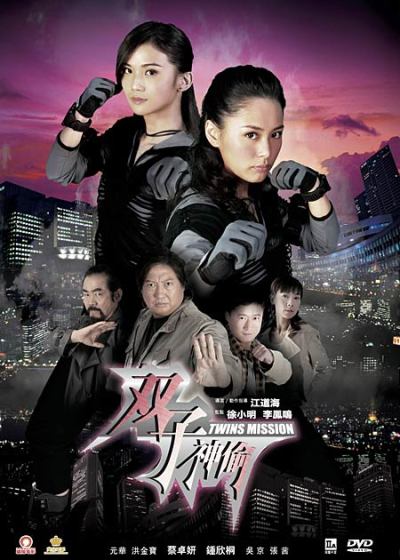 Twins Effect, the first film starring the Cantopop duo, Twins, was a frothily entertaining mix of action and humour, that was surprisingly entertaining. Its sequel? Despite a stellar supporting cast, and some great action, not so much, with a historical setting, and a balance that tilted unfavourably towards comedy. This third entry does at least return to the modern era, and also continues some impressively slick fights – and more broken glass than any other movie I can immediately think of – but has a similarly lumpy attitude, feeling almost like two films spliced together.
The McGuffin is a Tibetan relic called the Heaven's Bead, long alleged to have magical powers to cure illness – which is actually pretty damn big, since I was expecting something that could be measured in millimetres, rather than feet. On its way by train, a robbery attempted staged by an evil collective of twins (rather than Twins, if you see what I mean) leads to it ending up in a bag belonging to the owner of a store in a Hong Kong mall. Meanwhile, good twins Pearl (Chung) and Jade (Choi) are working as trapeze artists in the circus, but end up helping the guardian of the bead, Uncle Lucky (Hung) and his adopted son (Wu) to track down the artefact. But the evil twins also have their agent, Lillian, who is lured in with the promise of the bead's power being use to cure her cancer-stricken little sister, the unfortunately-named Happy.
Yes, this doesn't exactly take the high road in terms of pathos, milking child illness for every ounce of maudlin sentimentality it can muster, when not making xenophobic jokes about the funny way foreigners speak. There is also a fight over an autographed picture of David Copperfield [Jade + Pearl's idol], which ends with it being eaten by a hippo. This apparently tells us two things about China: people still care about David Copperfield, and it may be the only place where circuses that use wild animals are still welcome. I'm not sure which is more surprising, but that's the level of nonsense between the action that you will have to endure, and I'm not sure the plot makes any actual sense in terms of logic or motivation. Fortunately, the saving grace is said action, with one standout fight between the good twins and several sets of evil twins in the mall, and another at the end, in the evil twins' lair. Both are long, inventive sequences on finding new and interesting ways to break plate glass, though both the wire-fu and the stunt doubling for the starlets are a bit excessive.
I originally gave this 2.5 stars, then upped it to three, when I realized that was what I gave Twins Effect II, and this surely wasn't any worse, was it? But on further reflection, it probably was, and I downgraded it again: there's about 20 good minutes in this, and even Sammo couldn't save the rest.
Dir: Kong Tao-Hoi
Star: Charlene Choi, Gillian Chung, Wu Jing, Sammo Hung