"Hell hath no fury like a mother separated from her daughter."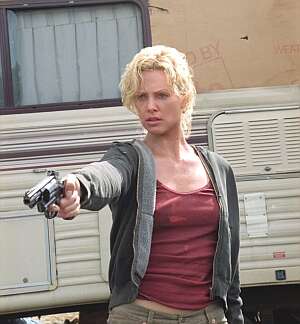 Karen and Will Jennings have an idyllic life – money, a really nice house and Abby, the sort of six-year old daughter only ever seen in Hollywood films. That is, it's idyllic until Joe Hickey (Bacon) and his family enter, kidnapping Abby for ransom, just after Will has left for a conference. Their scheme of terror has proven effective several times before, and the Jennings have just 24 hours to save their daughter.
This film is a contrast between the Jennings and the Hickeys, and in particular Karen Jennings (Theron) and Cheryl Hickey (Love), who are polar opposites in looks, lifestyle and background, but share a fierce dedication to their families – especially, their daughters. Both are prepared to go to any extreme, even violence, to right what they perceive as an injustice [if the preceding sentence sounds awkward, it's because I'm waltzing around a spoiler!], and I defy you to watch the scalpel scene without a twitch.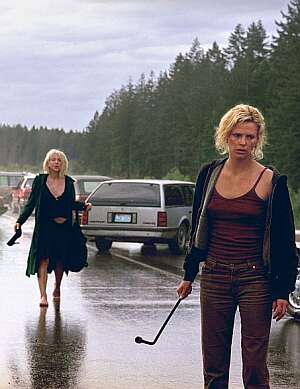 Karen has to handle the ever-dangerous Joe, while Will (Stuart Townsend) is kept occupied by Cheryl, and Joe's cousin (Pruitt) looks after Abby, who turns out to be severely asthmatic. The cutting back in forth is designed, partly to increase tension – it does – but perhaps more importantly, cover some dodgy plot elements. As with all kidnappings, how do the criminals expect to collect the ransom? This is never made quite clear, and as the film goes on, it unravels to a frankly implausible finale involving a light aircraft, a logging truck and a mile of busy highway.
Which is a shame, since the actors involved are good, even if none of the roles are much of a stretch: Courtney Love playing a white trash slut doesn't exactly show imagination in the casting department. Still, if you want a Discovery channel documentary about a mother bear defending its cub, in human form, this is effective. I just wish they'd developed that side more, and the usual thriller aspects less. Hell, who wouldn't want to see Theron in a 2 Days in the Valley-style catfight with Love? :-)
Dir: Luis Mandoki
Star: Charlize Theron, Kevin Bacon, Courtney Love, Pruitt Taylor Vince