"God told me to do it."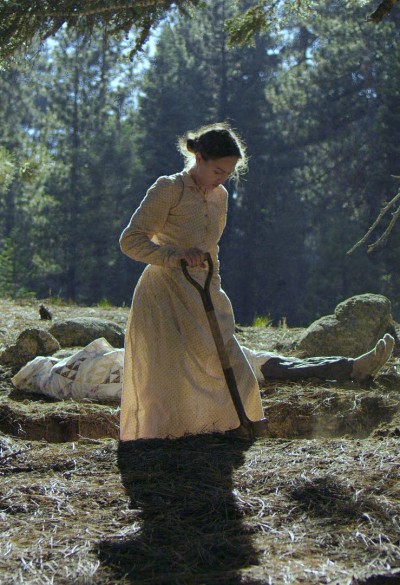 I'm not religious, and "faith-based" films normally have me running a mile, though I confess a certain guilty fondness for the more extreme, Revelations-based work [I mean, have you ever read Revelations? The things that go down are certifiably insane. This is what Hollywood should be making, not Noah or Moses stories]. But it was only at the end of this, with a final title quoting a Bible verse, that I realized The Trail likely falls into the category, as shown by the alternate title; fortunately, it's very much understated, and can be appreciated even by godless heathens like myself. Amelia (Jandreau) is on her way to California as part of a wagon train with her husband (Brown), when they decided to split off on their own, he believing he knows a short cut. Unfortunately, they are attacked by Indians, and Amelia is left, on her own, in the middle of nowhere, to try and make her way through a vast, unforgiving wilderness.
The closest cousin is Nicolas Roeg's brilliant Walkabout, not least because Jandreau bears more than a passing resemblance to Walkabout's star, Jenny Agutter: both have a similar pale beauty, and habit of opening their mouths just a smidge. The similarity is also in the relationship Amelia strikes up with a young indigenous child (Nash) she meets, that proves crucial to her chances of survival, echoing the one in Roeg's film. However, the take here is a good deal less earthy and primitive in its themes, and Amelia is a good deal less dependent, instead being a lot more pro-active, which is why it merits coverage on this site, being equally a story of self-discovery and survival against the odds. Indeed, perhaps its main weakness is, rather too much against the odds: while there's not much idea of the overall timeframe here, she survives blizzards clad only in a light dress (the kid is sensibly wearing furs), and doesn't seem to do much hunting or gathering beyond a tiny fish. Maybe that's supposed to represent the power of her faith?
Despite throwing this on late at night, it managed to hold my interest better than you think it might, considering the lack of conventional action sequences: it's more or less 95 minutes of Amelia versus the great outdoors. It helps that the heroine is given an inner strength of character – again, I presume in hindsight, this is a religious thing – and determination to overcome any obstacle, sometimes with inventiveness, such as when she turns her wedding dress into a fishing-net. The landscapes are fabulous, and the photography does both them and the heroine justice, capturing the latter with an almost luminescent glow. As a different take on the era, eschewing the obvious characters and situations, it's worth a look if you're in a more contemplative mood.
Dir: William Parker
Star: Jasmin Jandreau, Tommy Nash, Shannon Brown
a.k.a. Let God