"Nice opening, solid middle… Let's leave it at that, shall we?"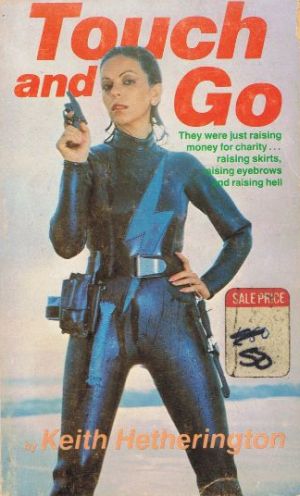 This 1980 film was originally called Friday the Thirteenth, but went through a title change in production, after they discovered some other film with that title being made… No hockey-masks to be seen here: instead, it's the story of three young women, Eva (Hughes), Fiona (Contouri) and Millicent (Duncan), who start robbing places, largely for amusement – they donate the proceedings to an orphanage. However, after one of their victims ends up making far more money than they do, thanks to a bogus insurance claim, they switch targets and set their sights on a bigger fish, in the shape of a luxury hotel which contains a bank, jewellery store and other treats. This requires expanding their team, but with larger hauls come larger risks, as they find out, even once the actual crime has been carried out.
As a light, frothy Ozploitation and distaff take on something like Ocean's 11, it's aimiable viewing, bubbling along on the charisma of its leading ladies – one a locksmith, another a bored housewife, the third a children's radio presenter. In contrast, the men are not exactly the sharpest tools in the box, easily manipulated, even the policeman that Millicent is dating. The main issue is a plot which has the heist taking place somewhere near the middle of the film, when it should probably have been the climax. It's a nicely-put together extended sequence, but the post-heist antics are easily the least interesting aspect of proceedings, sliding into borderline farce.
The performances are pretty good, even Hughes as a slacker gardener – I say "even", since he was better known as a singer-songwriter, still fairly well-known down under, and also did the film's soundtrack. Hughes is the likely standout, and has gone on to have a solid career in film and TV [she played the aristocratic woman with whom Phoebe Cates came to stay in Princess Caraboo]. She and her co-stars keep this a fluffy confection that, while dated, has not been too badly crippled by the passage of three decades. Well, not nearly as much as the unfortunate scripting which leaves the viewer feeling almost like they're watching the reels out of order.
Dir: Peter Maxwell
Star: Wendy Hughes, Chantal Contouri, Carmen Duncan, Jon English