"The Yung and the VERY restless…"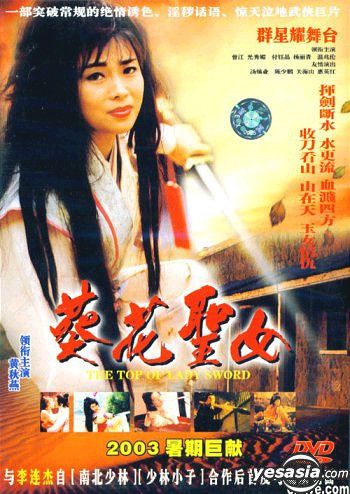 This Taiwanese production focuses on a martial arts get-together, organized by the honorable Chi (Tsang), as a way for all the local artists to settle any beefs with each other. Arriving in town are brothers Au Lung and Wong Hu (Wan), who are out for revenge on Lady Yung (Wong), who had killed another of their brothers, though it was actually an honourable battle. Au Lung is content to forget their revenge, until he falls under the spell of a local inn-owner, who has a plan to seduce him, and use Au Lung as a tool to steal Chi's martial arts manual and become the top fighter. When Chi turns up dead, Yung is blamed,  and after that is sorted out, her husband and daughter as then kidnapped by Au Lung. Yung, her sister Shao Chung (Khan) and Wong Hu set off in a desperate effort to rescue the hostages.
There's a lot to enjoy here, and about the only thing stopping it from getting a seal of approval is that it's very wuxia – so if you're not fully prepared for people flying through the air and severely undercranked action, this will seem laughable. It's one of those occasions where less could have been more. But, personally, I still found it a great deal of fun, with a well thought-out plot, engaging characters and some nice twists on the usual themes. For instance, there's a lovely bit of role reversal, where it's Yung's husband who is the stay at home one, and she is running around the countryside, fighting battles against, it seems, everyone who crossed her path. Additionally, I liked the brief diversion into almost a kung-fu "whodunnit" in the middle, and on the other end of the emotional spectrum, there's a body-count which is surprisingly high. If I don't want to spoiler who lives and who dies, let's just say there's more of the latter.
The bottom line, however, is the martial arts, and these sequences are copious and well-staged, under action coordinator Alan Chan. The various performers get to showcase a broad variety of their styles, and they mesh together well. Everyone gets their moments to shine, will all three of the leading ladies looking very impressive. This one is available on Youtube with subtitles, and even if the quality of the print leaves a fair bit to be desired, it still makes for an entertaining 90 minutes, and is a case where a film's obscurity is no reflection of its merits.
Dir: Wong Hong
Star: Wong Chau-Yin, Deric Wan, Kenneth Tsang, Cynthia Khan
a.k.a. Lady Chrysanthemum Sword