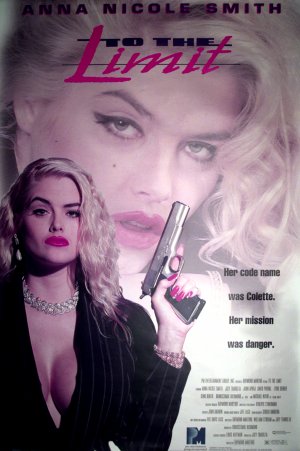 If this film is superior to Skyscraper, it's largely because it has a good bit less Anna Nicole in it. You may even actually find yourself paying attention, simply because the plot doesn't make much sense for the first 45 minutes; you wonder how it took three writers to come up with the plot, unless they were locked in separate rooms. It was only later that I discovered it's a semi-sequel to another Martino work, Da Vinci's War, in which Nouri and Travolta's characters previously appeared. Does help explain why the movie hits the ground running and doesn't bother to explain who anyone is.
From what I can work out, ANS is Colette, an undercover CIA agent. It is at least more plausible than the helicopter pilot thing, since the best undercover agent is somebody no-one would ever believe was one. This makes Anna Nicole very, very good indeed. She gets involved when her lover (Nouri) is blown up by a car-bomb on his way to the wedding of Da Vinci (Travolta), which is simultaneously rudely interrupted by a massacre, though it's not a patch on the amazing one in Queen's High.
It does leave Da Vinci's new wife dead, and he himself is badly injured, and barely survives a follow-up attempt in the hospital, when a "nurse" tries to poison him. It all turns out to be orchestrated by the heavily-tattooed, bearded but bald, bad guy Arthur (Bannon), who is after a CD-Rom that threatens to incriminate him in…oh, the usual bad-guy stuff, I guess: murder, drug-dealing, and not phoning his mother on Sundays.
As a result, both Da Vinci and Colette are now being hunted, and must team up to ensure their safety from a constant stream of assassins pointed their way by Arthur. A pleasing number of these are women, but what else would you expect from a film containing no less than three Playboy Playmates of the Year? [Smith (1993), Rebecca Ferratti (1986), and Kathy Shower (1985)]
This is shallow, straight-to-video fodder, but is at least workmanlike, and Travolta is a good deal less smug than his more famous brother. I still question the need for three writers, especially given a particularly lame climax on the Hoover Dam, which will certainly have you handling your CDs more carefully for a while. Nicole Smith is slightly better than in Skyscraper, though any speech longer than a sentence starts teetering perilously towards "I wanna have a baby!" territory.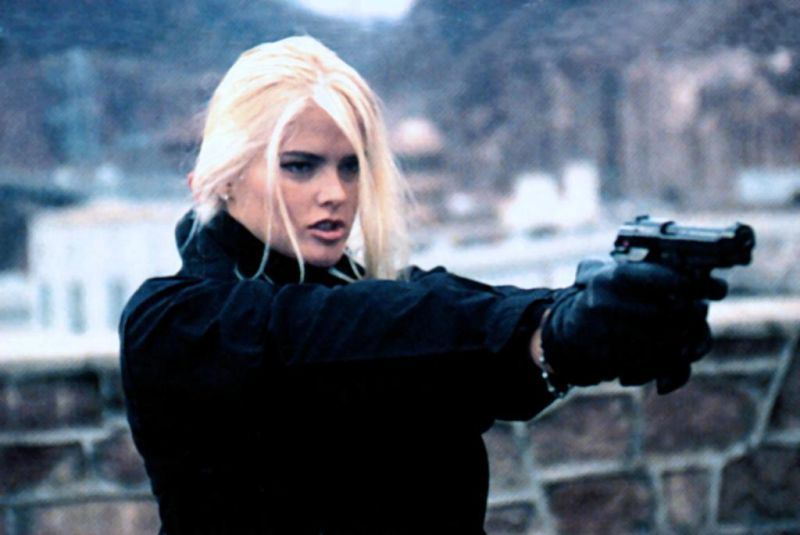 There is one decent sequence in which she shoots her way out of a motel, which I confess had me wondering briefly who this competent action actress was. Otherwise, it's pretty much business as usual, with two sex scenes (Nouri and Travolta are the unfortunate actors involved), one bath scene and a shower scene, both of which have Colette paying special attention to cleaning certain of her bits, if you know what I mean, and I think you do. Actually, I'm reporting the shower scene second-hand; I dozed off, and it was left to my fiancee, Chris, to experience that horror…
Dir: Raymond Martino
Stars: Joey Travolta, Anna Nicole Smith, Jack Bannon, Michael Nouri