"Good, for the (Spanish) Main part"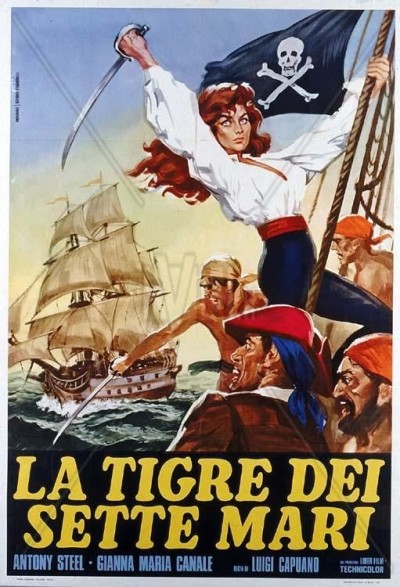 Another in the flurry of Italian female pirate flicks of the sixties, this stars Canale as Consuelo, the daughter of a pirate captain. After he retires from the buccaneering business, she defeats her lover, William (Steel) in a duel to decide who takes command. Her father is killed with William's knife a short while after, but they are attacked by the Spanish forces of Governor Inigo de Cordoba (Calindri) before her boyfriend can be hung for the crime. In the ensuing confusion, William escapes, and makes off with the ship. Consuelo and her followers, hijack another vessel and give chase. But is William the real culprit, or is this part of a plan cooked up by the Governor's scheming wife, Anna (Spina), who seeks to get her hands on the horde of treasure which was buried in a secret location by Consuelo's father, before his death?
The action is a bit disappointing here, with most of the sword-fights consisting of not much more than the two participants standing at arm's-length from each other, waving their weapons. The story is also rather predictable, with few if any of the developments being unexpected. We just know William is going to be proven innocent, even if he looks like a young, piratical version of Lou Reed. ]Maybe that's just me?] What do work, are the characters, who are an enjoyable bunch to spend time with – even the villainous Anna, who is clearly the brains of the marriage. She's an excellent foil for Consuelo, who is equally smart and brave; she certainly makes a strong first impression, hurling a knife at William, and embedding it in the trunk of a tree by his face.
The spectacle side of things is well-integrated, though I have an idea some of the footage may have been lifted from other pirate pictures, as it doesn't quite seem to match; it was certainly not Capuano's sole foray into the genre. Everything builds nicely to the standard adventure film cliche, #37: the masked ball, which Consuelo infiltrates in the cunning guise of…a pirate, to rescue William, after he made an ill-advised attempt to storm the fortress and abduct the traitor. This leads to an all-out battle, perhaps most remarkable for the "raining cannons" sequence, but despite what I said about the plot having no twists, I must admit, the final conclusion is not one I saw coming, with the villainess getting off surprisingly easily, compared to other potential fates. She actually gets the treasure, though at the cost of letting Consuelo and William go. I like to imagine the sequel has them heading back to reclaim her father's loot, and I certainly wouldn't have minded seeing more of their adventures, and it's a shame no such follow-up ever emerged.
Dir: Luigi Capuano
Star: Gianna Maria Canale, Anthony Steel, Maria Grazia Spina, Ernesto Calindri