"Solidly acted and directed TVM, but the script definitely holds everything back."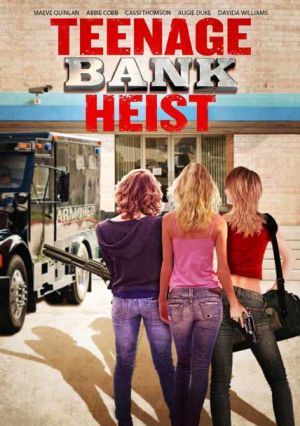 Recent high-school graduate Cassie (Cobb) works at a bank alongside her mother (Quinlan), bickering about the usual things, such as whether to go to college or not. This mundance existence is suddenly interrupted by a robbery: Cassie is stunned to realize the raiders are actually some of her school friends. When they realize this, the girls are forced to take her along, and she discovers the cause of the crime – the father of one (Thomson) has been kidnapped while on business in Mexico. Meanwhile, Mom is tracking down her kidnapped daughter, FBI agent Mendoza (Blasi) is also on the hunt, and one of the girl gang has her own plans for the ill-gotten gains, which doesn't involve any ransom.
I wavered between 2.5 and 3 stars for this, but finally opted for the latter, because of the sheer volume of strong female characters: only one of the seven main characters is male, which is a rarity. The pacing is good, the film hitting the ground running from an intriguing opening scene, before flashing back to the lead-up to the robbery, and there pretty much isn't a dull moment thereafter. Obviously, the TVM format imposes certain limitations on content, but the movie works within these fairly well, and the performances avoid most of the usual pitfalls and make the girls into fairly well-rounded, rather than irritating characters. Credit particularly Augie Duke as "bad girl" Marie, who has a fiery intensity that's fun to watch.
So, why was I being indecisive, all the way down in the 2.5-3 star range? It's the plotting, with a number of elements that are utterly implausible, particular with regard to the crime and how the FBI would handle circumstances. For instance, after getting surveillance footage of a crime, would they allow a witness unsupervised access to it? Do agents meander off to follow said witness out into the desert on little more than a hunch? There are a bunch of similar moments, where it's necessary to suspend disbelief for plot reasons, not least the ending, which certainly had me raising a sardonic eyebrow and going "O RLY?" If these don't damage the movie irreparably, they certainly weaken its impact significantly. And that's a shame, as its strengths still certainly make it worth a look.
Dir: Doug Campbell
Star: Abbie Cobb, Maeve Quinlan, Cassi Thomson, Rosa Blasi