I now understand why this…ah, "tanked"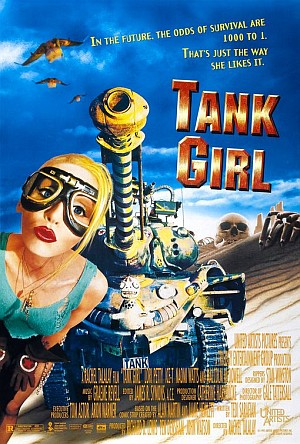 The creators of the Tank Girl comic once said: "It'd be cool if a bunch of tinseltown producers could get hold of her, totally misunderstand what they're dealing with, ignore our advice, and bring out a movie that would bomb, alienate our fan-base, destroy the comic, and bankrupt the pair of us in the process." Mission accomplished. I never really liked the original comic, but the anarchic appeal of a minor cult classic is almost entirely removed, in favor of a lead character who never gets beyond irritating. The setting is the same: a post-apocalyptic wasteland where water is almost entirely under the control of the evil Water & Power, headed by Malcolm McDowell. When his minions destroy the compound where 'Becca (Petty) and her pals live, she is enslaved, but escapes with the help of Jet Girl (the then-unknown Watts) and teams up with the shadowy, feared Rippers to take on W&P.
It's clear what the aim is here: one of those feisty, "riot grrls", who takes no shit and kicks ass, right alongside men. Very cool. However, whether due to bad scripting, poor casting or rampant studio interference – most likely, a combination of all three – the results are dire. Without wishing, in any way, to promote violence towards women: 'Becca would benefit from a good slapping, and is less an anarchic anti-heroine, than a badly-behaved nine-year old. Outside of McDowell, who could perform this kind of evil overlord role with his eyes shut, the supporting cast are forgettable, outside of Ice T, who simply looks embarrassed to be there, in his role as a mutant kangaroo warrior. I imagine his agent had some explaining to do after that.
There are only a couple of moments where the necessary surrealness peeks though, such as the perky musical number; more of this kind of delirious insanity, could have been a suitable replacement for the 'drink beer, smoke tabs' sensibility that characterizes the comic. Instead, this is neither one thing nor another, a self-conscious attempt to create a cult movie, that implodes in its own timidness. Bizarrely, Devo covered their own song, Girl U Want, for the opening titles, because the Soundgarden version was too expensive – and managed to completely screw it up, with a dirgeful rendition which sucks all the energy out. That largely sums up the disaster which is to follow.
Dir: Rachel Tallalay
Star: Lori Petty, Naomi Watts, Malcolm McDowell, Ice T.