"Bonnie and Clyde? Banal and tired, more like…"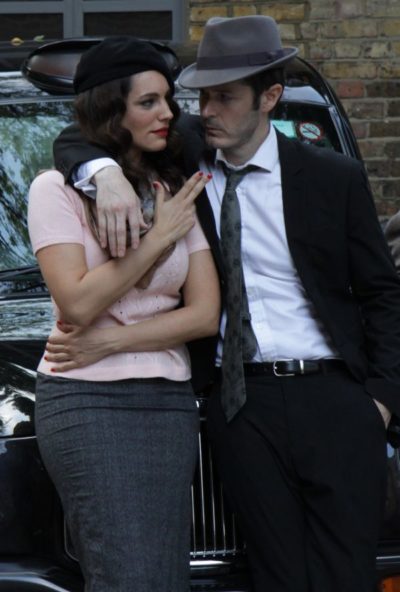 Kate's (Brook) life has fallen apart: she has just been told the store she works at is closing because the owner is cashing in on a redevelopment offer; her boyfriend has dumped her; and Kate's attempt at suicide by gas oven is doomed since she failed to pay the bill. What's a girl to do? The answer is apparently, take inspiration from her heroine, Bonnie Parker. But rather than robbing banks, Kate teams up with her other disgruntled work colleagues, hatching a daring plan to copy the key to the store, seduce the safe combination out of the firm's accountant, Mat (Williams) and plunder the ill-gotten gains.
This comes in at a terse 75 minutes, and that's a very wise move, because the script's actual content is thin to the point of paucity. Even with the short running time, it seems to run out of actual ideas round about the 30-minute mark, then tries to skate by for the remainder of the movie on Brook's charisma. Which is not necessarily a bad idea in itself: Kate is an appealing character, with whom it's easy to empathize, and Brook does a rather better job with her portrayal than I'd have expected from someone previously seen only in Piranha 3D – in which it wasn't her acting talents which were most apparent, if you know what I mean, and I think you do.
But the concept of transferring Bonnie & Clyde to a British setting is a poorly-considered one at best, not least because the closest Kate gets to touching an actual gun, is a vague impersonation of Travis Bickle, using a hair-dryer. Really, when it's so watered down, what's the point? I suspect the plot started from this ill-conceived premise, before writer-director Murphy quickly discovered it wasn't working, only for her to plough on regardless, to the bitter end. Which, in this case, involves a getaway chase on bicycles. This perhaps illustrates its aim of being quirky, in the style of an Ealing comedy, yet contemporarily British. Perhaps too contemporary, with references to Nando's that won't travel or date well, and its hip-yet-casual attitude quite quickly turns into forced and artificial.
The rest of the cast beyond Brook are something of a mixed bunch. Williams occasionally appears to be channeling the spirit of David Tennant, and while there are worse things to channel, you're left with a desire to go and rewatch Broadchurch. No-one else makes much of an impression. Did I say "much"? Any at all, would be more accurate. The film is in particular need of a better antagonist, against whom Kate can go up; her boss at the store is so lightly-drawn as barely to register. Indeed, beyond Brook, little of it will stick in the mind: this is cinematic fluff, and as such, its flaws may be a case of unfulfilled expectations. However, when I hear "a British Bonnie & Clyde," what that suggests is considerably darker fare than this breezy, entirely forgettable romp.
Dir: Maeve Murphy
Star: Kelly Brook, Scot Williams, Georgia Groome, Femi Oyeniran