"Better head(-shot) than dead."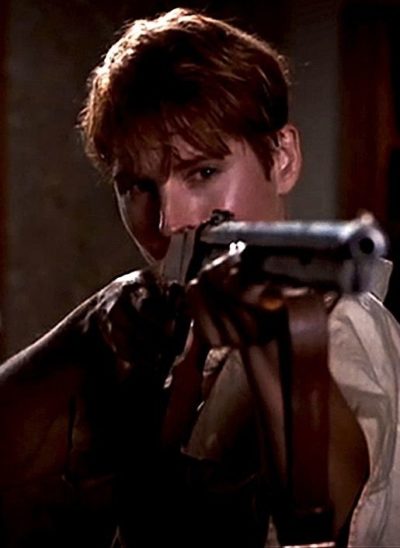 Important to note the year here, because the original Night of the Living Dead, for all its massive influence (without it, there'd be no The Walking Dead or World War Z) was very, very far from an action heroine film. Though it started off focusing on its female lead, Barbara, after she reaches sanctuary in the farmhouse, she spends virtually the rest of the movie in a near-catatonic state, and the film switches focus to Ben, who becomes the film's hero. The change for this remake is one of a number of alterations, which are likely both necessary and helpful: when you are redoing a film widely regarded as a classic, you'd better bring something new to the party. That's something largely forgotten by many horror remakes.
Even to non-horror fans, the plot likely doesn't need much description. On a visit to her mother's grave with her brother, Barbara (Tallman) finds herself the target for first one, then multiple, crazed attackers. She takes refuge nearby, along with others seeking shelter. They include Ben (Todd), a no-nonsense type, who repeatedly and at increasing volume crosses swords with Harry (Towles) over whether or not everyone would be better off sheltering in the cellar. As the zombie hordes congregate, various escape plans are formulated and tried – but tensions continue to rise, and the biggest threat to collective survival may not be the undead, banging on the doors.
Largely done for financial reasons – creator George A. Romero made very little from the original, despite its success – this works unexpectedly well. Right from the start, it adjusts the story in small ways that will surprise those familiar with the original, on its way to an ending which twists sharply away from the source, not once but twice. However, it's the change in Barbara which probably represents the largest shift. Initially, it looks like she's going the same route, and will spend much of the film suffering from shock. However, she snaps out of it, and rapidly becomes the most sensible member of the group: her suggestions are credible, and she doesn't engage in the bickering which threatens to tear the group apart, instead firing back, "You can talk to me about 'losing it' when you stop screaming at each other like a bunch of two-year-olds."
She's well ahead of the curve in terms to figuring things out, too. Witness the scene where there's still some uncertainty about what they're facing: she fires several shots into a zombie's body, asking repeatedly, "Is he dead?", before finishing the creature off with the archetypal bullet to the brain. No further questions. At the end, while still having some moral qualms – "We're them and they're us" – she is capable of putting them aside, and become a bandolier-wearing bad-ass. In the event of a zombie apocalypse, this version of Barbara is one of the people you'd most want beside you; she's smart, ruthless and takes absolutely no shit from anyone, human or zombie.
Dir: Tom Savini
Star: Patricia Tallman, Tony Todd, Tom Towles, McKee Anderson