"Toothless tigers."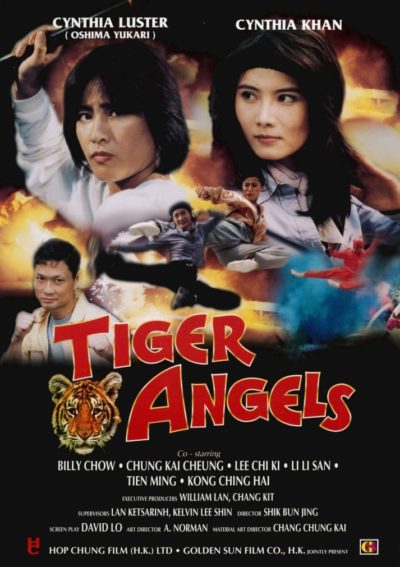 It is pretty close to an article of faith that no movie starring Yukari Oshima and Cynthia Khan can ever be entirely worthless. This film, however, shakes that belief to its very foundation. Not least because despite the cover and credits, found just about everywhere (including here), it barely stars them – indeed, Khan doesn't even show up for the finale, with absolutely no explanation provided. This is included here, mostly as a warning, and because I'm a stickler for completeness with regard to their filmographies. Though in this case, I suspect, I'm less a stickler and more the sucker.
The plotline is…obscure. There's a gloriously fractured English synopsis here, with sentences such as "Nga Wah finds her husband fevering with a girl." This includes some information I would never have guessed, such as Khan's character (Sally in this synopsis, Rose in the film I watched) being the daughter of the department store owner. I figured she was just a hired bodyguard like Oshima/Butterfly (Oshima), with the general manager of the store actually being the owner's son. So, everything which follows should be taken as less than gospel. Or as gospel, if you're of an atheist persuasion, I guess.
The plot concerns a department store CEO who is being threatened by the son (Chow) of a former business partner, over a debt supposedly incurred by the father. Rose & Butterfly are brought in to protect him. The store's manager is also being threatened: he has a wife who is more interested in material goods and their acquistion, than anything else. There's also a computer salesman who is a dead-ringer for the businessman, and so is hired to take over the business for five days. At first, I thought this was going to end up tying together with the debt, and the look-alike would end up being kidnapped, with Rose & Butterfly going in to rescue him. Never happens: those two angles completely fails to go anywhere near each other.
Indeed, the film has, at most, ten minutes of action. It is, admittedly, not bad action, with both ladies delivering at the level to which we've become accustomed. Khan has a particularly good battle around a playground, and Oshima gets her chance to shine in the (inexplicably solo!) finale. However, the rest of the running-time is occupied by crappy attempts at comedy, with hints of romance. This likely reaches its nadir in a sped-up shopping scene, which appears to have strayed in from the reject pile of Benny Hill.
Taiwanese film has long had a bad rep for churning out poorly-made knockoffs of Hong Kong products. Previously, I've sometimes wondered where that came from, as I've seen a number of entries which, if admittedly cheap, were little if any less entertaining, e.g. The Top Lady of Sword. However, there have been cases where its poor reputation has been entirely justified – Super Cops comes to mind. Largely through being guilty of wanton, wholesale misdirection, this is likely the worst offender I've ever seen, and that's saying quite a lot.
Dir: Sek Bing-Chan
Star: Yukari Oshima, Cynthia Khan, Billy Chow, Chung Kai Cheung