"Future imperfect."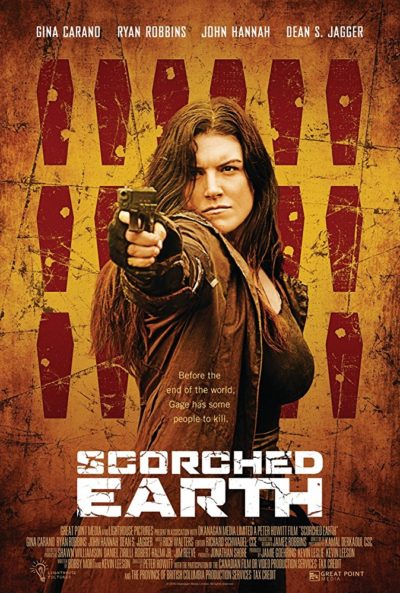 This workmanlike effort, if not particularly memorable, does at least cross two genres not frequently combined: the Western and the post-apocalypse movie. For it takes place in a world where global warming and other stuff have created a poisoned wasteland. Consequently, the currencies of choice are water purification tablets and silver, the latter being the raw ingredient in the air filtration masks which have become essential. Using vehicles powered by fossil fuels is totally outlawed, and those who do have rewards placed on their heads, attracting the attention of bounty hunters.
One such is Atticus Gage (Carano), who hears from former partner, Doc (Hannah) of an outlaw town, Defiance. This is run by Thomas Jackson (Robbins), whose bounty exceeds them all. Inevitably, Gage heads to the town to take Jackson out, adopting the identity of one of her previous targets, and insinuating herself into his posse. And equally inevitably, he turns out to have a connection to a dark incident in Gage's past, when not plotting to re-open a nearby silver mine, the ore being dug out by pilgrims kidnapped off a nearby trail.
Carano has struggled to repeat the success of her (effective) feature debut, Haywire, with cinematic supporting parts in the likes of Deadpool and Fast and Furious 6 alternating with straight-to-video starring roles, such as In the Blood. These have been best when she has been allowed to concentrate on the physical aspects which are her strength, and the same goes here, right from the first moment we see her, riding into shot and dragging a coffin behind her, in a nice nod to the original Django. However, if she's ever going to go further, she needs to show significantly more development as an actress. Haywire was now seven years ago – not that you'd know it from her performance here, especially when put alongside someone like Hannah.
I did like the overall setting, despite odd gaps in logic: sometimes people need to wear masks, at other times they don't. It's a universe which I'd have been interested to see explored some more, perhaps in an extended format, such as a TV series. This could have answered questions such as, where are those pilgrims going, anyway? I also appreciated how Gage has the ability to be a complete bad-ass, on more than one occasion showing absolutely no qualms about shiving or shooting those who might be about to blow the gaff on her assumed identity.
The tone is likely best summed up by a sequence in which Gage finds herself sealed into her own coffin and tossed off the side of a cliff. Naturally, she survives, staggering back to Doc, who patches her up, allowing the pair of them to return to Defiance, for a final grandstand(ish) shoot-out. It's all thoroughly implausible, yet somehow, is in keeping with the pulp/comic-book aesthetic for which the makers seem to be aiming. I can't say it's entirely, or even largely, successful there. Yet it's just enough to leave me back on the hook for whatever Carano does next, hoping for better.
Dir: Peter Howitt
Star: Gina Carano, Ryan Robbins, John Hannah, Stephanie Bennett