"Wynonna the Demon Slayer"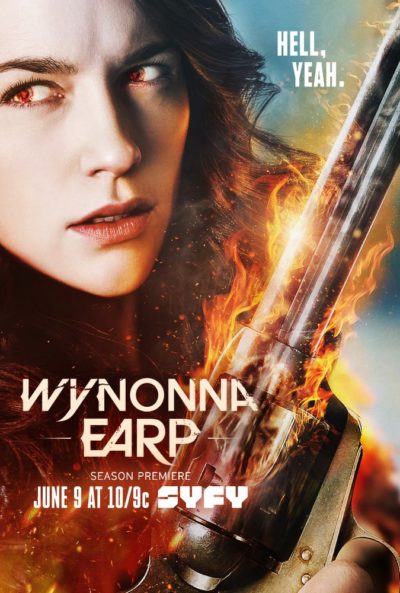 After a long absence, Wynonna Earp (Scrofano) returns to her home town of Purgatory, near the Rockies. There, we discover the truth about the death of her father and disappearance of her sister, events which precipitated Wynonna's departure. Turns out the great-great-granddaughter of the legendary Wyatt Earp has a supernatural duty to fulfill, using her ancestor's equally legendary 16-inch barrel "Peacemaker" revolver. Wyatt kept demons known as "revenants" in check, and the mission has been passed down the family line since, with Wynonna the current incumbent. Fortunately, mystical borders keep the revenants within the "Ghost River Triangle," and she has the help of Deputy Marshal Xavier Dolls (Anderson), an agent in the "Black Badge" division of the US Marshals Service; Doc Holliday (Rozon), the now-immortal former friend of Wyatt; and Wynonna's kid sister, Waverly (Provost-Chalkley).
Yeah, as the tag-line above suggest, there's more than an echo of Buffy here, from Wynonna being the unwilling "chosen one", through Purgatory being a hot-bed of supernatural activity (or "Hell Mouth"?), and the associated "Scooby Gang" who help out the heroine. Doc is a parallel for Angel, being a somewhat ambivalent immortal who has an on-again, off-again relationship with Wynonna. Dolls is Giles, the sensible adult of the group. And Waverly is a lumpy combination of Giles (research skills), Dawn (bratty little sister) and Willow (gratuitous lesbian tendencies). I'm not sure how many of these similarities come from Beau Smith's comic which is the source here. It first appeared in 1996, when Buffy was still a failed movie, and not yet the successful TV series it would become. But the showrunner admits, when pitching Wynonna, she would describe it as "Buffy meets Justified."
So, if you're looking for originality, you are far better off elsewhere, certainly. That said, the horror-Western is some way from being an over-familiar genre, and the obvious influences certainly do not mean it is without merit or appeal. There has been a real shortage of action heroine shows on American television – which leaves me happy to see, even one as derivative as this. I particularly liked Scofrano, who brings a cynical world-weariness to her mid-twenties character.The show also does a good job of disseminating information, striking a nice balance between revealing its secrets, and keeping the audience guessing. The middle episodes do degenerate a bit into 'Occult Monster of the Week' territory, yet the writers redeem themselves with a strong final arc that sets the stage nicely, and not too obviously, for the second season.
Wynonna [a spelling which looks plain weird, with at least one N too many] takes to her destiny with gleeful abandon, dispatching revenants with enthusiasm. It's refreshing to see a heroine who doesn't agonize endlessly about dispatching the enemy – even if in this case, it's probably because they are already dead. Overall, I think the show will likely go as far as Scrofano can take it. If it takes advantage of the chance to improve, and does so to the same extent Buffy did (the cast there didn't grow into their characters until perhaps the third series), it'll certainly be worth another look.
Creator: Emily Andras
Star: Melanie Scrofano, Shamier Anderson, Tim Rozon, Dominique Provost-Chalkley