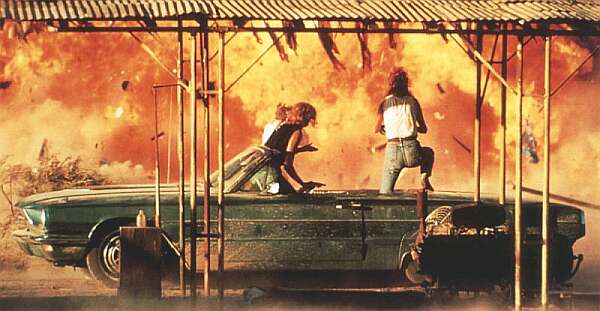 "Two Bitches in a Car."

But to quote one character in the movie, "Bitches from hell"… :-) Guess a spoiler alert is needed, though I suspect 90% of readers know how this ends. Better safe than sorry though. That said, it's possible to pinpoint precisely the pivotal moment in Thelma and Louise. A thug is raping Thelma (Davis) in the parking lot of a bar. Louise (Sarandon) comes out, sees the assault, and puts a gun to the attacker's head. The man freezes, and Thelma wriggles away. But when he tells Louise to "Suck my cock!", she guns him down anyway.
It's a shocking climax to a highly disturbing scene. Writer Callie Khouri made a very conscious decision for the 'victim' – quotes used advisedly – not to be a threat when he dies, and it leaves the viewer with really only two options. Lose empathy for a character capable of such a crime; or, somehow, accept that it's okay to shoot someone for what they say. [Rumblings of a previous incident in Texas are hardly a defence] To reverse things, any movie where the hero gunned down a mouthy woman would not, I feel, get an Oscar for Best Original Script, or be described as "empowering".
This is brave, but seems designed to fit her agenda better than the needs of the audience. Indeed, much the same could be said of the whole script, which can be summarised in four words: all men are bastards. The problem is, cliches are cliches, regardless of what sex they are. Every man is reduced to a crude stereotype – mostly petulant boys – even Harvey Keitel's stoic cop (with an Arkansas accent this Brit knew was lame) demands T&L do things his way. On the other hand, the script goes out of its way to ensure every woman is portrayed sympathetically, down to the truckstop waitress.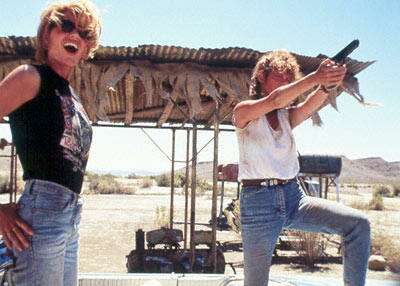 It becomes like having Andrea Dworkin yelling in your face for two hours, yet the film's moral is that if women empower themselves, death inevitably results. Khouri seems to be saying, "You can only beat the system by suicide," while the patriarchy watches from behind its sunglasses and firearms. We win, guys – now, let's go back to our Bud and football, while the little ladies make us dinner. With such confused writing, little wonder one studio executive's opinion, as given to Ridley Scott, was the quote headlining this article. Khouri, meanwhile, largely vanished until 2002's Divine Secrets of the Ya-Ya Sisterhood. However, if you need proof that a mediocre script can be salvaged by acting and directing, this is it. Between them, Davis, Sarandon and Scott (plus cinematographer Adrian Biddle) bring incredible depth to the characters and their story. No further proof is needed than to contemplate some of the other pairings who were mooted for the film: Jodie Foster and Michelle Pfeiffer or, god help us, Meryl Streep and Goldie Hawn.
I hadn't seen this since its original release over a decade ago. At the time, I remember being more impressed by Davis' performance; now, my opinion has changed, and Sarandon comes across better. This is partly because Thelma is such a dumb broad, who behaviour is initially more like that of a hormone-crazed teenager. Within hours of nearly being raped – hey, you go line-dancing, whaddya expect? – she's virtually sliding off the car seat when she sees cowboy JD (Pitt, though the role almost went to another then-unknown: George Clooney). She knows he's a criminal, yet leaves six grand on the bedside table for him to steal. Oops! Silly Thelma!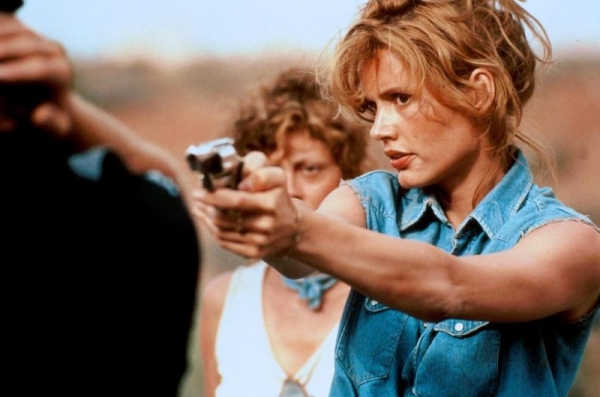 It's impossible to blame her for long, however, and the character development is fascinating. She starts the subordinate, but it's Thelma who robs the convenience store to fund their journey to Mexico (a great place to escape male oppression…), locks a whimpering cop in the trunk of his car, and suggests they should die rather than tamely accept capture. While Louise initially seems to be the stronger, the cracks begin to show before long, not least in her near-hysterical refusal to enter Texas, regardless of the resulting detour.
These are two fabulous portrayals – unlike Khouri, fully deserving their Oscar nominations (the statue went to Jodie Foster for Silence of the Lambs) – which salvage potentially laughable moments with convincing emotion that blows away the script deficiencies. And in contrast to the grim ugliness of their predicament is the luminous postcard photography of mythic America, in the shape of oil-wells, ruler-straight roads, pylons and buttes, on their way to that quintessential American location, the Grand Canyon. [Actually Utah's Deadhorse Point]
Certainly, it has to be considered one of the most important entries in the GWG genre, and despite its flaws, this film struck a chord which resonates even now. Perhaps its most powerful testament is a creepy little fact I found in Over the Edge: Death in the Grand Canyon [Ghigieri and Myers, Puma Press, 2001]. It has been possible to commit suicide by driving off the South Rim of the Grand Canyon for about eighty years. Almost one-third of all those who chose this method, did so in 1993, the year after Thelma and Louise came out on home video…
Dir: Ridley Scott
Star: Geena Davis, Susan Sarandon, Harvey Keitel, Brad Pitt