"A chick flick with balls…and strikes."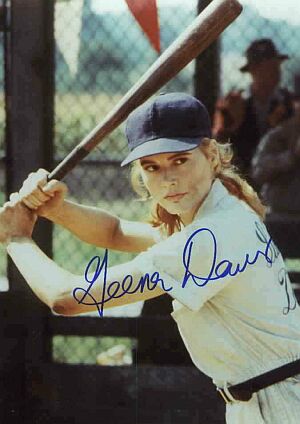 Deserving credit for being about the only female sports film of note, this is actually pretty good, despite a pointless and schmaltzy wraparound, which gives us nothing but some wrinkly baseball, one of Madonna's least memorable songs and Geena Davis as a thoroughly unconvincing pensioner. Which is a shame; if the bread in the sandwich is stale, the meat is tasty and filling.
From 1943 to 1954, women played professional baseball, a fact largely forgotten until this film. Davis plays the star catcher, taken from the countryside to play ball – giving a new meaning to "farm team", hohoho – along with her sister (Petty). The movie covers the first season, under a recovering alcoholic coach (Hanks), leading to a face-off between siblings in Game 7 of the championship.
Davis is excellent and entirely convincing (she'd go on to make final trials for the US 2000 Olympic archery team): the interplay between her and Hanks is great, and most of her team-mates are also true personalities. However, Madonna is superfluous, given the similar presence of Rosie O'Donnell [I'm struggling to avoid obvious jokes here]. Jon Lovitz steals the first quarter as an acidic scout, and it's a shame when he leaves.
If the characters are great, there's a lack of narrative drive; how can you get excited over playoffs, when it looks like every team qualifies? The friction between Davis and Petty vanishes for much of the movie, in favour of a series of entertaining but – being honest – unimportant diversions. When we reach the finale though, it's great; ever bit as exciting as any World Series Game 7. And coming from an Arizona Diamondbacks fan, that's praise indeed.
Dir: Penny Marshall
Star: Geena Davis, Lori Petty, Tom Hanks, Rosie O'Donnell