"Eyes without a farce."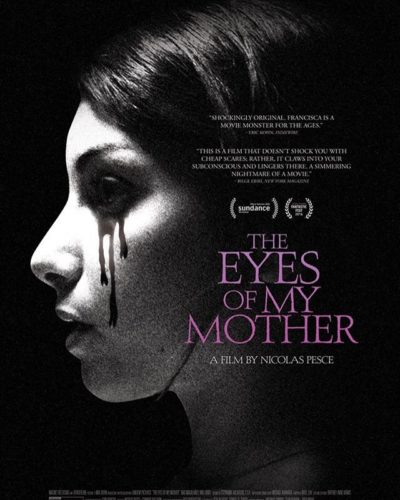 "Post-horror" is now, apparently, A Thing. It refers to horror films that subvert the traditional tropes and style of the genre in some way. Though based on the so-tagged example of it I've seen, the main subversion appears to be "not being frightening." I think there's a spot of pretension mixed in as well, since horror is generally regarded as marginally above pornography in terms of critical appreciation. By calling it something else, this gives those who turn their nose up at "horror" a chance to appreciate it. But it's a bit of a double-edged sword for marketing, because you're as likely to lose fans of "true" horror, who have been burned badly by films riding on the genre's coat-tails.
There's nothing particularly new about this. Films which rely on implied rather than explicit horror have generally been more warmly received by critics. Think of Psycho, The Shining, or even contrast the receptions of the original Cat People and Paul Schrader's 1982 remake, which took all the repressed sexuality of the original and brought it front and center. Critics hated the latter. It's one of my top 10 films of all-time – but I can also love the original, even though it's so understated as barely to qualify as horror by modern standards. There's room for both, and neither is innately superior. However, it generally takes a bit more skill to provoke an audience reaction with unseen terrors, especially if the viewer has seen their share of genre entries.
Which (finally) brings me to The Eyes of My Mother, a black-and-white film, which I guess is post-horror. For while it tells the story of a family of psychos living in the country, with a fondness for kidnap and torture… This is not exactly The Texas Chainsaw Massacre. It starts off as a family affair, with young Francesca living on a farm with her mother (Agostini), a former Portuguese eye surgeon, and father (Nazak). A home invasion results in a death, but the perpetrator is captured, and becomes Francesca's tormented plaything as she grows into adulthood (Magalhães), honing her surgical skills on him. That turns out to be just the first victim, as Francesca if a firm believer in crafting a new family by abduction.
It's all too highbrow for its own good, Pesce apparently believing that cutting away from virtually all actual violence, and draining the colour from proceedings is equivalent to art. He's wrong, for you also need to be a Hitchcock or a Polanski. Although some day, Pesce might reach those heights, this is his feature debut, and the style instead comes over as unbearably pretentious: art purely for art's sake, instead of serving the story. Not to say it gets everything wrong; the lead performance is deliciously chilling in its utter placidity, going to the other extreme from Texas, and all the more effective for it. But when Chris's first post-screening comment is, "I wonder how they paid their electricity bill?", you know that any supposed horror movie (even a post-horror one) has fumbled the ball badly in terms of impacting the viewer.
Dir: Nicolas Pesce
Star: Kika Magalhães, Olivia Bond, Diana Agostini, Paul Nazak