"A bit hard to swallow."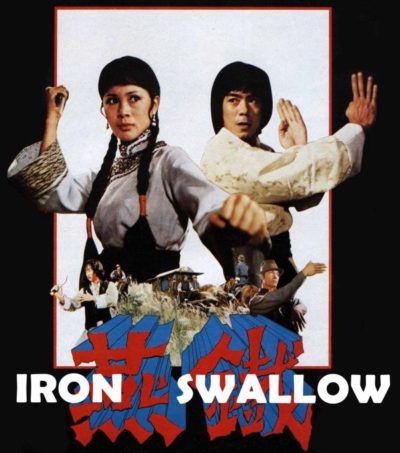 Generally, if someone is roaming the country, carrying out brutal attacks on apparently innocent citizens, blinding and disfiguring them, they'd be the villain of the piece, right? Not so here. For despite such distinctly non-heroic actions, Iron Swallow (Lee) is the heroine, disabling the men she holds responsible for killing her father years earlier. Needless to say, they're not exactly impressed with the situation. To make matters worse, someone is flat-out killing her targets, intent on covering up something or other, and is trying to make it look like Swallow is responsible, by leaving her trademark darts behind at the scene. There are also two friends (Tao and Chung) rattling around, the son and pupil respectively of the region's leading martial arts master Chu Hsiao Tien (Yuen), who get involved in the murky situation because Chu is one of Swallow's targets and has hired a particularly loathsome assassin to bury the case.
Murky is, to be honest, putting it mildly, and the plot here appears to have been constructed from finest quality raw ore, taken from the Kung Fu Cliché mine. And I stress the word "raw", since there doesn't appear to have been much processing, in the way of logical thought, given to those ideas between their conception and the screen. It's the kind of kung-fu film where you can't be sure whether they made the story up as they went along – however, if they had, it would explain a lot of the tedious incoherence. I read another review which called this a martial arts version of I Know What You Did Last Summer, and that's a decent enough summary. At one point, Chris meandered in and wondered whether this was the source film for Kung Pow: Enter the Fist, based mostly on Swallow's hair-style. Though she says that for about 40% of period kung-fu films, so it probably doesn't mean much.
It's certainly one of those cases where you might as well bring a book, and forget about trying to follow the indigestible lumps of plot between the action scenes. Fortunately, those are decent enough to sustain interest, and relatively copious, particularly in a final third which more or less abandons the plot, replacing it with multiple varieties of fisticuffs. Swallow's skills are obvious, and given multiple opportunities to shine. It's a shame that Lee was never allowed to showcase her own identity, in the way Angela Mao received, instead being the victim of a highly dubious marketing campaign which alleged she was Bruce Lee's sister. Whatever the short-term benefit that brought, it did her career no good in the longer term, and she was all but gone from the screen by the end of the seventies. I have to wonder if whoever came up with that genius idea, was also responsible for the script here…
Dir: Judy Lee, Don Wong Tao, Ting Wa Chung, Yee Yuen
Star: Chang Pei-Cheng
a.k.a. Shaolin Iron Eagle