"The Queen of Hearts"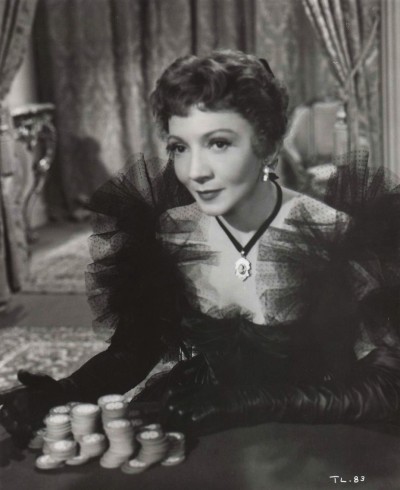 The start here is absolutely fascinating. Riverboat gambler Chris Mooney (Sullivan) is getting his ass kicked by an unknown amateur – and, worse yet, it's a woman. Certain it's just bad luck, he borrows $30,000… and loses that too. The woman, Prudence Webb (Colbert), takes the money and gives it to a bank. Her father, who had a gambling problem, had embezzled cash, lost it to Mooney, and subsequently committed suicide. To gain revenge, she had learned to play poker, studied his tactics quietly and, when she felt assured of victory, put her plan into action. Talk about best served cold. With the balance of the cash, she buys a newspaper in a small Texas town, Fort Ralston. Why? Why not. But on arriving there, she finds the local land barons, in particular Micah Ralston (Collins), after whom the town is named, less receptive to her new-fangled ways, though his hired gun Foley (Walcott) takes a rather creepy shine to Webb.
Intent on recovering his reputation as much as the cash, Mooney has followed Webb to Fort Ralston, where Foley resents the new arrival, seeing him as a rival for Prudence's affection. Meanwhile, roused by her newspaper's editorial stance, promoting developments such as the railroad, the town is beginning to stand up against their landlord. Ralston retaliates by fabricating a claim of unpaid back taxes on the newspaper, for which Webb is deemed liable. When that fails to get rid of her, and the residents revolt by electing their own mayor, sheriff and judge, replacing Ralston's cronies, he blockades the town, citing his ownership of the land all around it. Will Prudence and Chris prevail, in their efforts to bring the town into the modern era [or, at least, the late 19th century?]
Colbert is an interesting choice. She won an Oscar almost two decades earlier, for It Happened One Night, and was among Hollywood's biggest stars at the end of the thirties. The romantic aspects here are, at first sight, implausible, since she is in her fifties (easily old enough to be Walcott's mother, for example) and not what you'd describe as classically "pretty." But screen presence and personality make up for a lot of that gap, with the strength of Webb's character well ahead of its time. I almost wish they had made the entire movie about the initial plot to get revenge for her father; it would have made for a unique and fascinating tale in itself. Instead, the film more or less collapses into standard Western shenanigans with Mooney's arrival in town, the film becoming mostly about his struggle against Ralston, with Webb largely taking a back seat in her own movie. This is much less interesting, unfortunately: Sullivan isn't as good an actor, and his character is largely a stock white-hat. Collins' portrayal of the villain isn't bad; you do appreciate he has something of a legitimate beef, having sacrificed his life to the town and its people, which is more motivation than you usually get.
In the end, the production lives or dies with Colbert. When focusing on her, it's thoroughly entertaining and innovative. Unfortunately, the second half largely shifts its attention off Webb, and significantly weakens the overall quality of the movie.
Dir: Tim Whelan
Star: Claudette Colbert, Barry Sullivan, Gregory Walcott, Ray Collins